The concept of working from home is relatively new. Previously, work was associated with office premises, but technological advancements have given flexibility to the employees as well made the employers accommodating as well. Now, organizations are interested in getting productive results and not where the employee has worked. This has made it easier for people to work who were unable to go to the office regularly due to their personal commitments and responsibilities.
In addition, the companies do not have to suffer from loss of work when an employee is on leave. Employees requesting their employers to work from home has now become a common practice.
Possbile reasons to request
An employee may want to make this request for many reasons, such as:
Pregnancy.
Looking after wife or baby.
Health issues.
Accidents or injuries.
Doctor appointments.
Sick family members.
Death in the family.
Family commitments.
Court dates.
Other appointments and personal commitments.
If an employee's paid leaves for a period have been utilized and he still cannot attend the office due to some reason, the company would not be willing to suffer the loss of work. Therefore, the employee makes a request to his manager and asks him to grant the leverage of working from home. He can send a letter or an email while considering the following:
As it often goes in the employee record file, the request should be polite, formal, and to the point.
The reasons for working from home should be clearly stated.
The employee needs to ensure that the work quality and productivity will not effect.
The employee should request any required connections to the networks.
The employee needs to take responsibility for task completions, internet connections, timely communication, etc.
The employee needs to inform about the time duration of working from home. Is it a temporary request, a part-time one or does the employee want to work from home on a continuous basis as full-time? should be clearly stated.
Sample Letters for Various Reasons
#1
Request letter to work from home due to childcare
I seek your permission to work from home tomorrow November 12th. My babysitter will be on leave for a day and I have no other arrangements for my 4-year-old kid. I, therefore, request your cooperation. I will be in touch with the supervisor during working hours through email and video calls for the progress of the ABC report.
I really appreciate your support.
#2
Due to pregnancy
I would like to place a special request to work from home during the last trimester of my pregnancy. I am suffering from high blood pressure and gestational diabetes. My doctor has declared it to be a high-risk pregnancy and I am forbidden to travel. It is, therefore, not possible for me to attend the office in this condition. However, I wish to continue to work before my official maternity leave begins on the 1st of July. Kindly permit me to work from home from 16th May onwards. I shall be available through email and phone calls.
I have attached my medical reports with the letter. Your cooperation will be appreciated.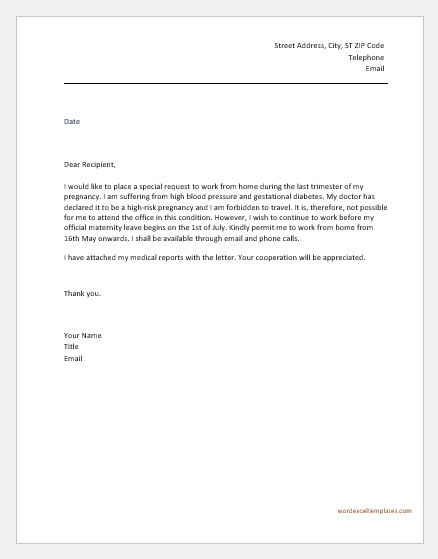 File: Word (.docx) 2007+ and iPad
Size 40 Kb
Due to personal reasons
I beg to state that I will be unable to come to the office on Wednesday and Thursday due to some personal reasons. I request you let me work from home for two days.
I thank you in anticipation of approving my request.
Due to an accident
As you have already been informed about my accident yesterday, I seek your permission to work from home for a week till my injuries heal completely. I am aware of the workload at the office. It is, therefore, not feasible to take leave at this moment.
I will be in correspondence with Mr. Meezo through phone and email regarding the ongoing project. I will also brief my assistant on a daily basis to make sure our monthly feasibility report is completed on time.
I have attached my medical certificate for reference. I am grateful to you for your support.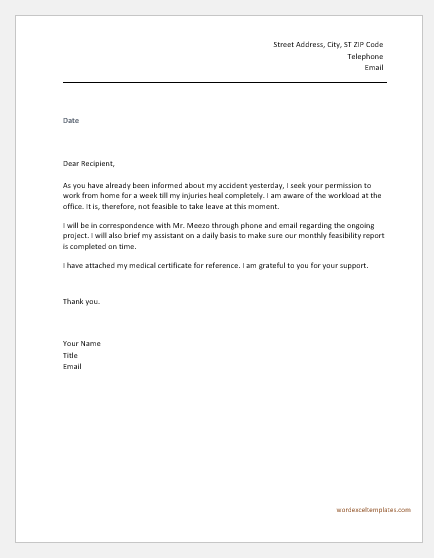 File: Word (.docx) 2007+ and iPad
Size 40 Kb
Request to work from home after maternity leave
I beg to state that my maternity leave finishes this Friday, the 21st of May.  However, I have still not fully recovered after my C-section. The doctor has advised me to avoid travel for a further two weeks. Since the commute from my house to the office takes 40 minutes, I will be unable to rejoin from Monday due to my medical condition. I, therefore, request your permission to work from home for a period of 2 weeks. 
Please find attached my medical reports and doctor's certificate. I seek your support and appreciation for understanding my situation.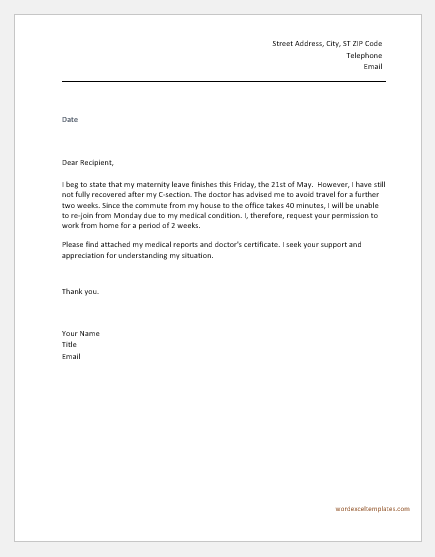 File: Word (.docx) 2007+ and iPad
Size 40 Kb