As the name suggests, a promissory note is a written promise or a written agreement, like an IOU, which is drafted at the time of borrowing money from someone. In this note, a borrower makes a promise to pay the money back to the lender at the pre-decided time, at the pre-agreed interest rate and with the predetermined repayment schedule. The promissory note for a personal loan is written evidence, which is usually used when a lender is lending to a relative or a friend.
When an individual borrows from a bank, it involves many legalities and often takes a lot of time. To avoid those things, sometimes, one seeks to borrow a personal loan from a relative or a friend who can easily lend the money. Due to the acquaintance and relationship, people often avoid making legal contracts, for which case a promissory note is a substitute and savior.
This is a legal document yet can be made without any complications. It states all the significant information which is important for the loan transaction.
When the promissory note is being drafted by incorporating all the relevant details, it can be prepared by the concerned parties from scratch. Else, they can use a readymade template, available online or in the programs, such as Microsoft Word, and customize it as per their requirements and details.
The details and conditions associated with a personal loan as well as the demands of the borrower are the factors that determine the choice of the template and the information that needs to be included.
A promissory note can be very brief or quite comprehensive in nature with a separate repayment schedule attached. However, the general details included in all the promissory notes are:
Date of the note or date of lending.
Amount lent.
Details of the borrower.
Details of the lender.
The date for the return of money.
Interest rate.
Repayment schedule.
Default conditions and repayment.
Signatures of the borrower, lender, and witness.
Although all the conditions are mentioned in the note and are duly signed, yet the note does not guarantee any repayment. The chances of default cannot be minimized with a promissory note. Nevertheless, this note is an essential document while lending and borrowing a personal loan, as it limits any misunderstandings and ambiguities as well as can be used as lawful evidence in the court in case of the default or any other reason.
Sample Promissory Note
Date
Address
Promissory Amount
I, [Name Here], hereby, promise to pay [Name Here], an amount of $[AMOUNT] for the value received, along with the interest of [X]% on an annual basis, payable as a sum on __________.
In case of default, the borrower [NAME] is liable to pay the full amount of $[AMOUNT] by selling any personal asset as well as all reasonable cost of collection and attorney's fees will be paid by the borrower.
Borrower signature_____________
Lender signature_______________
Witness signature_______________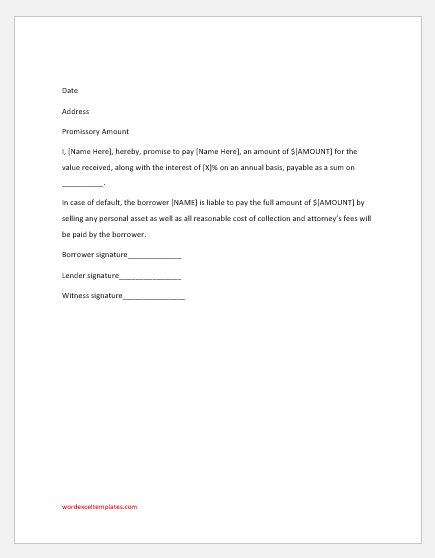 File: Word (.docx) 2007+ and iPad Size 18 Kb |
Download
---