Companies and businesses need to keep careful track of all activities so that no issues occur. The salary is very important here. If careful track and records are not kept of this, it may lead to some issues later on.
What is a Salary Acknowledgment Letter?
A salary acknowledgment letter is a letter that shows an agreement has been reached between an employee and employer concerning their salary. The letter states this fact clearly.
If you need to create a salary acknowledgment letter you can consider the below points:
Microsoft Word– The salary acknowledgment letter is a formal and professional one, therefore, type it carefully in Microsoft Word.
Date– State the date when the letter has been written.
Details of the recipient– Tell their name, position, so that it is known who the letter is to.
Address the recipient– You can do this in a professional way by saying "Dear."
The subject of the letter– This should how wording that it is clearly known what the letter is for. Make it short and to the point.
Letter– Start by stating what the letter involves. It should be that there is an acknowledgment that has been achieved concerning the salary of the employee. It can state that after meetings and negotiations the particular amount has been approved. If there is a salary increase you can tell the reasons why this has happened. The amount should be given clearly so that it is known by all concerned. Also, tell when the new salary will be effective. Give the date. These details need to be known.
Professional language– This letter should use professional and formal language that is clear to understand by all concerned. No mistakes should be made especially in the amount of salary and since when it will be increased.
End– End with something like "Yours sincerely".
Details of the company– You can state the name of the company here. The person who the letter is from should also be given. You can state their name and position as well. If you want, the signature can even be included to make the letter authentic.
The possible benefits of a salary acknowledgment letter are the following:
A salary acknowledgment letter is a letter that can be kept as proof that a certain amount of salary has been approved for an employee.
This is a formal way of telling the employee of their salary.
It can be kept by the employee as proof if required later on, for instance, to show that a certain figure has been approved.
When needing to make a salary acknowledgment letter you can consider the above points. Do this carefully using the right words and without any mistakes. It needs to be understood by all concerned. Create it in Microsoft Word as you can easily type it here using the font of your choice. It is better to use a professional font because the letter is such.
Sample Letters
Letter -1
I am writing this letter in acknowledgment of the salary package offered to me for the post of (job title) at your organization. With this acceptance, I formally accept your job offer.
I look forward to joining your team soon. Kindly notify me about my official joining date.
Letter -2
This is my formal acknowledgment of the salary increment offered to me. I accept the increase of [AMOUNT] with effect from the next month. I am grateful to you for the pay raise.
I understand that this increment comes with added responsibilities. I will make sure I fulfill the company's expectations with me.
Once again, thank you for the raise.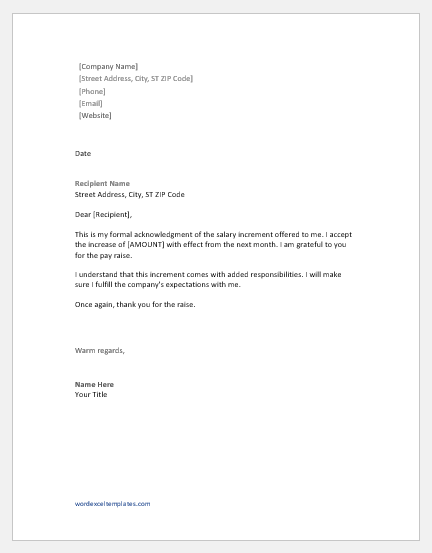 File: Word (.docx) 2007+ and iPad Size 25 Kb |
Download
---