The manager of the company keeps a record of everything regarding every employee. This recordkeeping is helpful for the company. For instance, the account details of the employee are in the record of the manager that he uses for carrying out transactions every month or week. So, whenever you decide to change your personal details of any sort, you must update the manager about it.
This letter updates the manager of the company regarding the changes that you have brought to your accounts. In most cases, the employee writes this letter to make a formal request for the record so that older details that are no longer relevant can be removed.
Some people believe that it is not important to write to the manager and the details can be shared verbally with him. However, there are plenty of reasons for writing a formal letter. Some of them are:
When you want to receive your next salary in your new account, and you know that the manager does not have details of that new account When you have applied for reimbursement of expenses and you are sure that the manager is going to release funds to your old account that is no longer relevant to you
When you want to inform the manager about the changes so that the manager does not make any mistake of sending your salary to the wrong account
When you want to ensure that you have shared your new account details in writing and there is no chance of making a mistake
The tips given below are for all those people who want to be careful and accurate in terms of what they write and how:
Give your personal details:
Although you are writing to share your new account details, always start with giving your personal details so that the employer can identify you. Your details should include your designation in the company, your employment number, and some other details that you can make it easy for your boss to identify you.
Request for the update:
It is a formal letter, and you cannot get into deep details regarding anything. So, ask formally to update your record and replace old account details with new details. Mention new account details in the letter.
Proofread it well:
Before you send the letter to the employer, make sure that you have proofread it well, especially the part that includes your account details. You cannot afford to share incorrect details and then face the problem of incorrect transactions.
Also, proofread the rest of the letter to ensure that you have not made any spelling or grammatical mistakes since these mistakes are proof that you don't take anything seriously and also show that you don't have a sense of responsibility.
Follow the template:
Following a prewritten letter is an easy process that enables a person to write professionally to their manager. People are not comfortable especially when it comes to corresponding with their bosses. They feel overwhelmed and make mistakes. For such people, templates are created. These templates provide a readymade format that can be edited and customized according to the needs of the user.
Below is a sample letter that you can read and get the idea about writing to the manager about account updates.
Letter
My name is Johnson and I am working as a computer operator in your company. My salary is being credited to my personal bank account number [04192888]. However, I want to inform you that I have changed my bank account for some personal reasons. I have relocated with my family to another state.
Due to this reason, my bank account number has been changed. It cannot be used for salary withdrawal anymore. In fact, I was forced to shift my account to another relocated state.  
My new account number is [0109299]. I hereby request you to update my older information so that the salary could be credited to my new account number only. I want to inform you further that our accounts office may face difficulty while transferring the salary to my new account. Therefore, you are also requested to verify my employee verification form in order to activate my new account in a new bank. The said form is enclosed with this letter.
You are also requested to direct the relevant department to update my account information. Only then it would be possible for me to withdraw my salary right from my new bank account. I shall be very thankful to you for this act of kindness.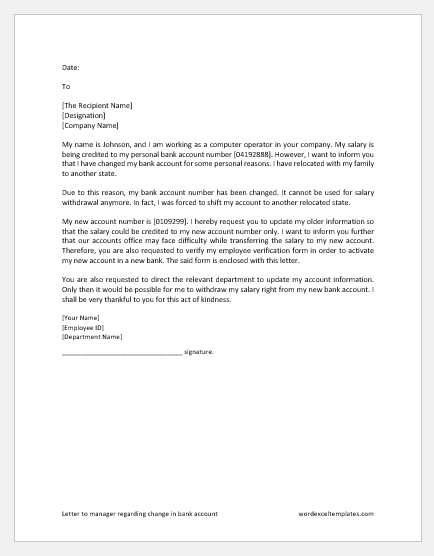 See also: