It is a request letter written to the service provider by the person who wants to inquire about the price and other aspects of the service.
The main objective of this letter is to get the quotation from the service provider. A person looking for a particular service has many options when it comes to choosing one service provider with the most reasonable quote. So, he writes the quotation letter to all the available service providers. Then they can choose the one with the most suitable quote.
Drafting a professional service quotation letter…
Mention the purpose of writing the letter:
It should be clearly stated in the letter what has compelled you to ask for the quotation. This will enable the reader to understand your purpose and then he will respond to your letter accordingly.
Give your introduction:
Whether you are a person or the representative of a company, you must specify what kind of products you deal with and what type of services you need. Also, mention the quality of services you are looking for. You can mention anything that you think is important for the reader to know.
Discuss your requirements for quotation:
Let the reader know what you want them to write in the quotation document. Some people only want to know the price of the service while some need to know some other aspects such as terms and conditions of working, sales tax on the service and much more.
1.
I am writing this letter to seek information about the services that you offer. ABC company is one of the leading companies in the country. We have established a good reputation in this area and our company is recognized as a well-reputed institution of quality. We never compromise on quality and therefore, we would like to purchase materials needed for the manufacturing process of our company. We would like to know the quotation of the material.
Below is a list of materials that the company needs. Please provide us with the mentioned articles. We expect that you will send us high-quality products and you will take care of the customers who want to see the quality of the product they purchase.
It is being mentioned here that interruption in the provision of services will affect our business operations badly and due to this, we don't tolerate delay or interruption.
After receiving the quotation, we will review it in detail, and then we will send our representative to you for striking the deal.
We are looking forward to hearing from you soon.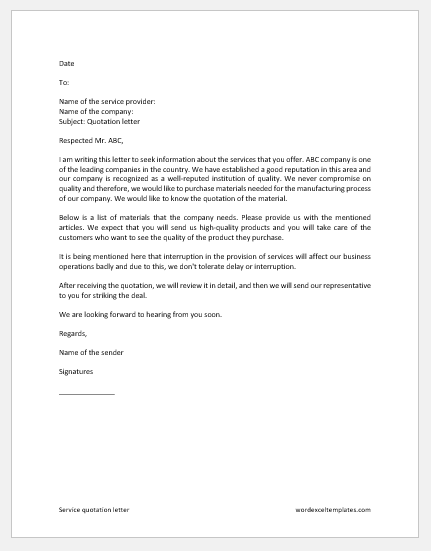 Another sample for service quotation letter is being mentioned below:
2.
I am (mention your name), representative of ABC Company writing to you to inquire about the quotation of services that your company provides.
We are looking for a service provider who can deliver us high-quality products within a given time frame. We never compromise on quality and therefore, we would like to receive products that have premium quality. Our customers are our top priority and meeting their expectations is what we always strive for.
Kindly send us the service quotation along with the detailed description of every package you offer to your valued customers.
We will finalize the deal with you after we have thoroughly reviewed the quotation document received from you. We expect you to be quick in providing us with the bid details so that we can move forward as soon as possible.
A list of products has been attached with this letter. We hope that the quotation you will send will be in line with this list and our expectations. In case you need to ask anything else regarding this, you can contact us on (mention your phone number). We are looking forward to a quick reply from your side.