Sometimes, there are such circumstances created that intervene in regularization. If a person gets an appointment letter from the hiring company and ends up being unable to join the company. There can be various reasons for not joining the company. If the person has already got another appointment before his appointment in the mentioned company, he can opt for dismissing the option of working in said company or organization. Other problems like immigration and change of town can also present as the reason for not joining the company.
A delay in getting an appointment letter can also be one of the reasons for not joining the company due to other better career options that the candidate might have found.
While writing such an apology letter, mention the designated position and date of the interview being conducted for the mentioned post. Also, frame valid grounds for not being able to join the company. There is no restriction or curtailment in exposing the reason in front of the company; a candidate can mention the privacy of the reason behind not joining.
Make the company feel your willingness and delectation you had to join the company by giving a positive opinion about the company's work, good fame, and strength of the team.
Close your letter with good wishes expressing the desire to welcome an opportunity to join the company in the future. Fill the letter with a positive and pleasing experience you had with the short interaction with the company, interviewers, and other staff. Keep it professional, efficacious, impersonal, and optimistic.
Following is a sample letter of such kind and can be used for the purpose likewise.
Sample Letter -1
Re. Apology for Not Joining the Company
Dear Mishra,
It is not enough to express my gratitude, the feeling of honor, and pleasure by receiving the letter of my appointment for Assistant Finance Manager. I gave an interview for the position of Assistant Finance Manager on 20th April 20XX. I received this letter of appointment yesterday i.e. on 20th May 20XX. The gap of one month made me confused about the appointment and I lost my expectations for the job.
I started applying for other jobs and found one. Luckily, I was recruited in the department of Auditing as Field Finance Director. To work as Field Finance Director has always been a dream which came true a week before. That company needed fulfilling the vacancy as soon as possible and they recruited me by sending an appointment letter just after four days of my interview. Working as Field Finance Director would add a lot in my career and I realize high chances of getting a promotion within a year or so.
By giving the above description, I intend to excuse for not joining the company as Assistant Finance Manager. I regret that I could not join your company as it was an amazing experience of interacting with the team of your company.
I hope to enjoin the team of your company sometimes in the future. I am grateful to you for considering me to be part of such an amazing, assiduous, and hardworking team.
Thank you
Sincerely
(Signature)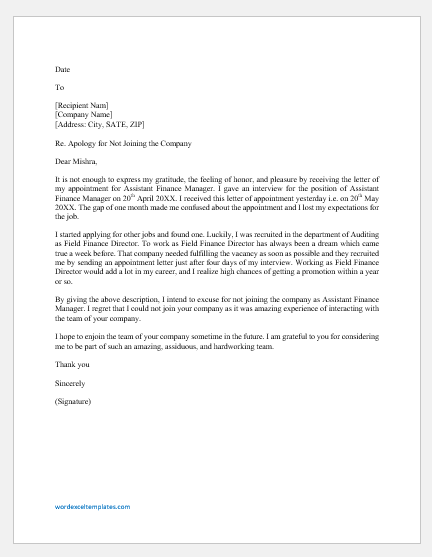 File: Word (.docx) 2007+ and iPad
Size 20 Kb
Download
---
Sample Letter -2
Re. Excuse for Not Being Able to Join the Company
Dear Shirley,
I am glad to find the appointment letter by your company which has been one of my utmost desires to work with such a strong team. I was interviewed on 14th May 20XX for the post of Senior HR Manager which went well as a great experience to interact with amazing and some of the strongest heads of the country.
I regret that I am unable to join the company now because after being interviewed, I inspired a lot by the interviewing committee; I made up my mind, after making a lot of research and thinking, to start my own business. I am determined to be one of the great entrepreneurs of the country and have started working on that. I realized that my stance does not fit to work in the patterns of job.
I hope that you will be pleased to read this piece of apology and would not mind my inability to join the company. I found your company a great place of working and I would love to work with this company but at a different level of interaction.  
Once again, I thank you for considering me capable to work in this prestigious company. Kindly pardon me for any inconvenience caused by this.
Thanks again!
Sincerely
(Signature)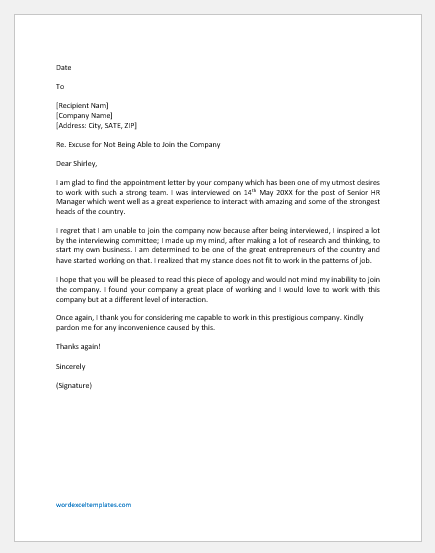 File: Word (.docx) 2007+ and iPad
Size 19 Kb
Download
---