Jobs have their own benefits and flaws. According to a survey, only 51% of Americans have jobs. The others either do their own businesses or they are unemployed. Be it a high profile corporate job or a mediocre one, people hate going to work. Very few people love their jobs and going to work every day. According to another survey, only 13% of people are emotionally attached to their jobs and love going to work.
Some people keep on holding on to their jobs even when they don't like it. Others leave jobs for better opportunities and some people even leave the jobs at all and start their own work. Leaving a job can have a lot of reasons. When women get married, they leave jobs due to relocation, family pressure and sometimes because they end up in having kids. Even when the world has changed so much, most of the employees have no policies in place to address such issues. As women, in most of the families are not breadwinners, they leave the jobs effortlessly.
Although an employer may claim that he had no other solution but the reality is that there is always a solution in the control of an employer but he does not try hard to retain the employees. The best way to retain employees is to remain in touch with them and have an understanding of their feelings and expectations from the job. Employers should not only think about their growth and profits, but they should also pay heed to the growth and development of their employees as well.
Employers should conduct hold interviews to determine the factors which make an employee stay. This way they get a perspective and try to create the same circumstances for other employees as well. Sometimes, despite the efforts of the employers, the employees leave. When an employee leaves the job, the HR conducts an employee exit interview. During this interview, they try to discuss the factors that forced an employee to take this extreme decision. The objective of this interview is to take the criticism positively and use it for organizational improvement.
Following is given a ready-made template for all those HR managers who want to conduct an employee exit interview. The form is already filled with necessary information however you can make suitable changes as per your requirement.
Preview and Details of Template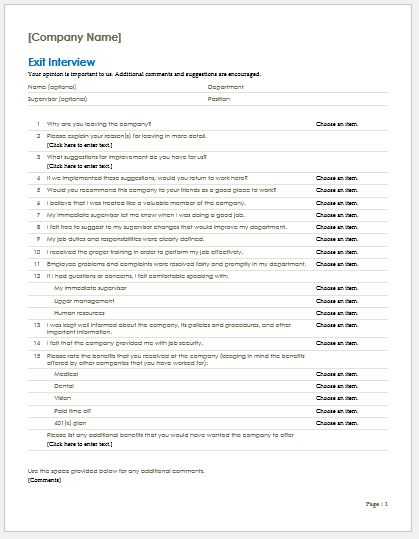 Employee Exit Interview Form Template
File: Word (.doc) 2003+ and iPad 
Size 49 Kb | Download
License: ENERGY [Personal Use Only]