What is a clearance certificate?
Whenever you leave a rental property, a college or university or a job, every move requires a clearance certificate. A clearance certificate is a proof that the concerned person has cleared all dues, fulfilled the terms of the contract and returned any equipment or other items that were the property of the contractor (the landlord, the educational institution or the organization where an employee worked).
Clearance certificates are widely used in personal contracts, contracts of property, and job agreements. Even students are required to submit a clearance certificate before they are handed over their degrees.
The clearance certificate indicates that the individual has cleared all debts and is not in possession of any item that was the property of the party with whom the contract was signed.
For example in the case of an employee, the employer issues an employee clearance certificate. Irrespective of the fact that whether an employee has been terminated or has resigned or has been transferred to another location, they will be asked to return any item that belongs to the organization and handovers any documents or data that are the property of that organization.
Once the employee has handed over all documents, property or equipment, they are issued a clearance certificate. A copy of the employee clearance certificate is also kept in the employee's file for record.
An employee clearance certificate is issued by the employing organization. The employee is given an employee clearance form that the employee must get filled by concerned individuals or departments. These departments include the IT department, services department, accounts department, the department that the employee was working in, and lastly the HR department.
This is not a fixed list for the clearance form to be signed from; rather it depends on the size and structure of an organization.
An employee working in an educational institution may also have to get clearance from the library and the computer labs. As soon as the employee gets the clearance form filled and signed by the relevant department, the sooner he can submit the form in the HR department for processing. This does not usually take more than a week.
Once an employee is issued a clearance certificate, it means that the employee does not possess any item that belongs to the organization, and all his/her dues have been cleared. This certificate ensures that the office property and equipment are returned.
Sample clearance certificate statement
[Company Name]
[Address]
Employee Clearance Certificate
This is to certify that [employee name] has returned all property and equipment belonging to [company name] and is hereby cleared of all dues as of [date].
Department Name | Remarks | Signature | Date
Services Department
Accounts Department
Immediate supervisor
HR Department
Department Head
President/CEO
I hereby certify that I have returned all equipment and cleared all dues towards [company name] have been settled before the last day of work.
Employee Name
___________________
Employee Signature
___________________
Date
___________________
See also: Employee clearance form
Preview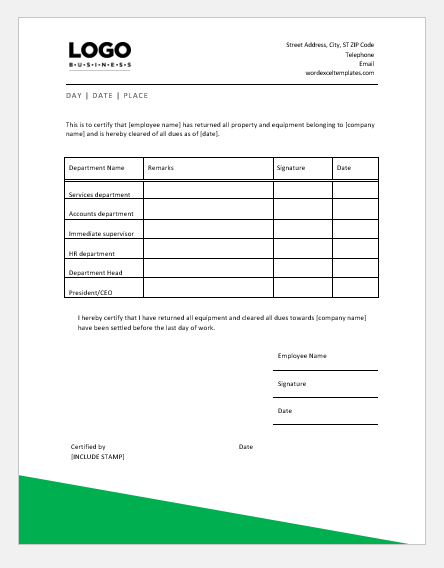 MS Word [.docx] | Download
Preview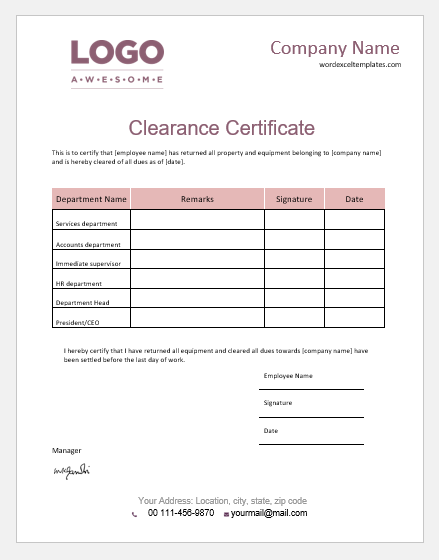 MS Word [.docx] | Download