Eid is a religious festival that is celebrated warmly by Muslim communities all over the world. They celebrate two events of Eid per annum and each event is celebrated religiously conforming their rites and religious traditions. On such occasions, companies announce Eid holidays as other vacations of the year and it should be announced formally by writing an email, letter, or a simple display of notification.
While writing Eid holiday notification formally, make sure to enter the date of the start of holidays and end of holidays. Greet Eid and announce Eid bonus or any other amount as an Eid incentive. Many companies announce bonuses on Eid to adjudicate with the event depending on the companies' policies and regulations.
Sample -1
Re. Notification of Eid Holidays
Dear Staff Members,
I am writing this letter in liaison with the forthcoming event of Eid-ul-Azha i.e. on 1st August 20XX. The company would follow up on the holidays stated by the government that is from 1st August 20XX to 4th August 20XX. The government has notified a three-day vacation for Eid-ul-Azha and so would be followed by the company. I am very happy while making this announcement with the happy greetings of Eid felicitations to all of you to lead edifying moments of Eid with your family.
Moreover, I am delighted to give another glad tiding that the company has decided to specify $200 as a bonus to all of the employees of grade A, $175 to the employees of grade B, and $150 to the employees of grade C.
This has been considered as a period of great delight and favorite to everyone. GHK Groups wish you happy event of Eid filled with great pleasure and jubilation as this time period is considered as a great time of leisure and entertainment, so ensure to make the most out of it. Further, you all are directed to visit the Finance Manager Office before 30th July 20XX.
Thank you.
Sincerely,
Signature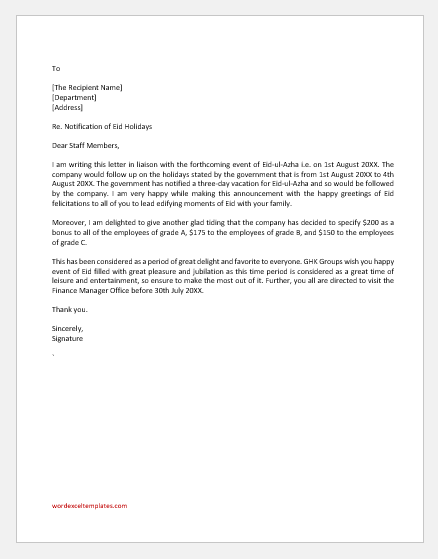 File: Word (.docx) 2007+ and iPad
Size 21 Kb
Download
---
Sample -2
Re. Eid Holidays Announcement
Dear All,
I am writing this letter to you to announce Eid holidays starting from 31st July 20XX to 2nd August 20XX. I wish you all a very peaceful and joyful Eid on the behalf of the Stridel Nost Groups and Org. Eid holidays are one of the most awaiting periods of the year which is looked by everyone. People look at the Eid holidays as a great source of leisure, family entertainment, and a sigh of relief from non-stop projects and piles of files on the table.
To make sure your leisure undisturbed and to make it more joyous, the company has announced $100 payable to all as Eid gift. Your spiritual and mental elevation is wished by the company. Ensure to make most out of this time of festivity making edifying moments with your family, friends, and relatives. For more visit the news section of our website i.e. [website].
Thank you
Sincerely,
Signature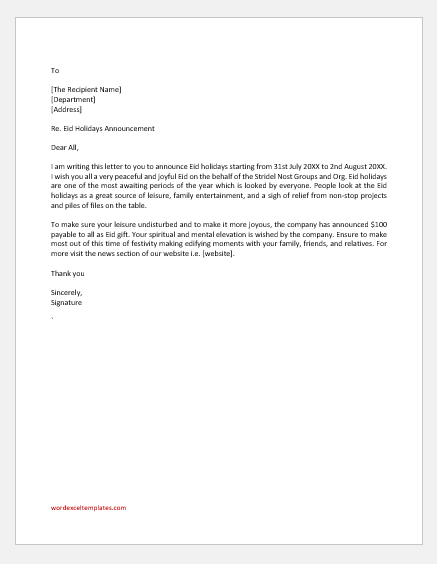 File: Word (.docx) 2007+ and iPad
Size 19 Kb
Download
---
Sample -3
Re. Announcement of Eid Holidays
Dear Staff,
I, on the behalf of Tech X Consultants, am going to announce one of the most awaiting announcements of the year through this letter. The purpose of penning this letter is not only to announce Eid holidays but also to wish Eid greetings to elevate the bond of community consciousness and to realize the edification of one of the most important events of the fiesta.
To follow the government curriculum of public holidays and other vacation plans, the company shall remain closed from 31st July 20XX to 3rd August 20XX and no work shall be done during this time. To ensure the edification and double the joyousness of the event, the company has announced its annual bonus for the employees as per its policy of bonuses and incentives. According to that, the company shall update all of the salaries with a 4% addition. Visit the Human Resource Department for the process of incentive.
The office shall open on 4th August 20XX and resume its work according to the earlier schedule. You are requested to make your presence sure on the said date and time.
For further information, you can ring at [X] or write to [email]. Thank you.
Sincerely,
Signature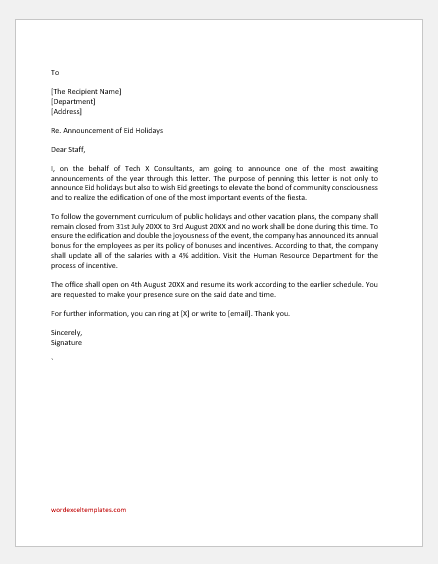 File: Word (.docx) 2007+ and iPad
Size 23 Kb
Download
---
Sample -4
Re. Announcement of Eid Holidays
Dear all,
Hope you all will be fine and doing your job well. As you all know that Eid is around the corner and you all are waiting anxiously for the commencement of holidays. As it is the most anticipated festival in Muslim countries and each one of us wants to spend this time with our loved ones. It is to announce that the official holidays for Eid would start from 28-07-20XX to 31-07-20XX. The company wants you to spend this cheerful event of Eid with great happiness.
You know that we are still in a pandemic situation. So, keep this thing in mind while meeting your loved ones to keep social distance and follow all the precautionary measures that the government has ordered us to do. Moreover, there would be no official work for your ease in these days and it would be a leisure time completely. To add more colors to your happiness, the company is giving you 200$ as Eid's bonus. Hope you all would spend quality time these days. Happy Eid in advance to all of you!
Regards,
Matthew Arnold
The ABC Company Manager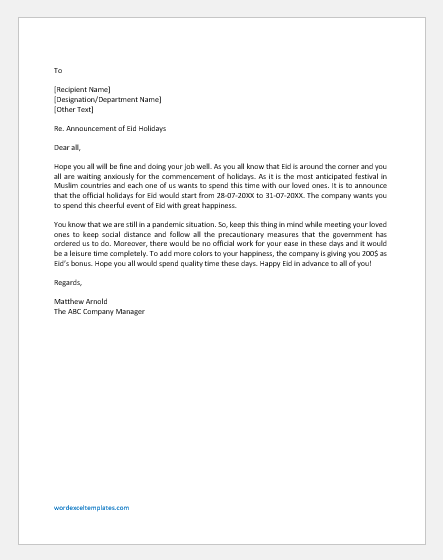 File: Word (.docx) 2007+ and iPad
Size 23 Kb
Download
---
Sample -5
Re. Eid Holidays Announcement
Dear all,
Hope you all are doing well and will be alright. This letter is an official statement to you concerning Eid holidays that are ahead of us. The company knows that you all want to spend this time with your family, friends, children, parents, and loved ones. We care for all employees and their needs. So, the company on account of Eid announces five days' holidays to you that will start from 3-07-20XX and will end on 7-07-20XX. You all would join the office again on 8-07-20XX.
Eid is a time for seeking pleasure and spreading happiness. So, the company is giving you an Eid gift of 150$ and this amount would be transferred to your salary. There would be complete relaxation for you in these holidays and you would not be asked for any kind of emergency work. I want you to back to work with new zest and enthusiasm. During these holidays, you are requested to adopt all precautionary measures to avoid yourself from getting infected by the Coronavirus and maintain a social distance. Wishing you all an exuberant event of Eid! Don't forget to help needy at this time and remember them in your happiness also.
Regards,
Marlow Julian
XYZ Company Manager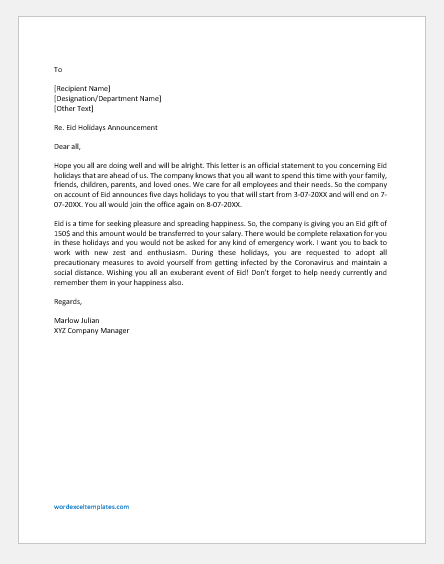 File: Word (.docx) 2007+ and iPad
Size 20 Kb
Download
---