The way to handle stuff is quite a complex issue. Such stuff can be of many kinds. It can be handling the students in a classroom, handling the cattle on a farm, handling the stock at a wholesale outlet and much more. Above all, one must be skilled and experienced while performing a job of handling stuff.
Money is all that the whole globe is revolving on. Everything is working in the world on the basis of money. In schools, colleges, universities, firms, organizations, industries, government sectors, and banks; all are functional due to money. The cash department serves as blood in the veins of human beings.
A bank job is a complex and risk-taking job. The bank is all related to cash. The cash belongs to the customers. The customer is the boss. Cash handling is quite a tough job. Cash handling procedures and policies must be understood by all the employees. If cash management is done with much attention and care; it becomes much easy to handle the cash. While depositing cash, crediting cash, counting the cash, transferring the cash in other banks etc mishandling can occur.
Such cash mishandling can occur due to carelessness. It also occurs if one is not paying attention towards his duties. Mishandling can create many issues for the banks, the respective employees as well as the customers. Big incidents of cash mishandling can create a bad reputation of the bank. Immediate warnings must be given if cash mishandling occurs.
Letter -1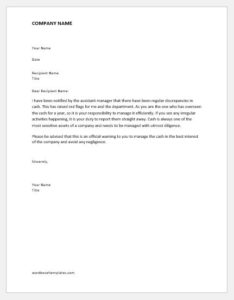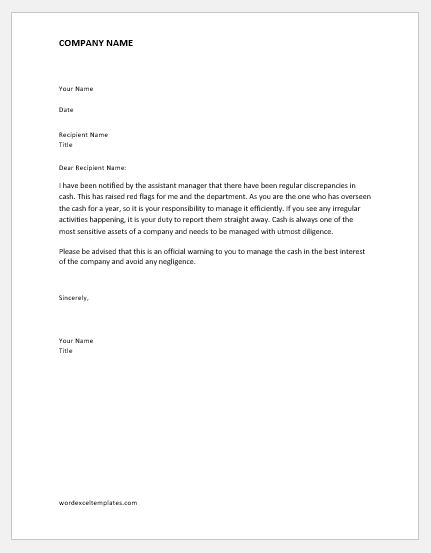 I have been notified by the assistant manager that there have been regular discrepancies in cash. This has raised red flags for me and the department. As you are the one who has overseen the cash for a year, so it is your responsibility to manage it efficiently. If you see any irregular activities happening, it is your duty to report them straight away. Cash is always one of the most sensitive assets of a company and needs to be managed with utmost diligence.
Please be advised that this is an official warning to you to manage the cash in the best interest of the company and avoid any negligence.
With thanks
Letter -2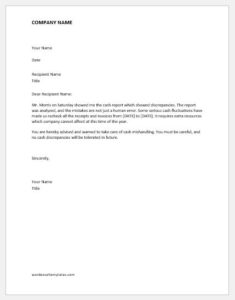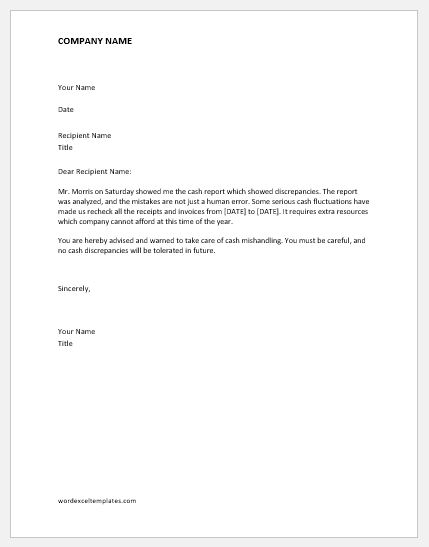 Mr. Morris on Saturday showed me the cash report which showed discrepancies. The report was analyzed, and the mistakes are not just a human error. Some serious cash fluctuations have made us recheck all the receipts and invoices from [DATE] to [DATE]. It requires extra resources which company cannot afford at this time of the year.
You are hereby advised and warned to take care of cash mishandling. You must be careful, and no cash discrepancies will be tolerated in future.
Sincerely,