Surveys have been conducted many times on child psychology since birth to pre-schooled; it is being found that parents who talk a lot to their babies; they start talking very early rather than those who talk much less to their kids. Such stuff has a big influence on the development of a talkative nature in a kid.
A personality of a person has a strong influence on his surroundings. Personality is associated with the nature and habits of the person. Nature and habits are mostly dependent on the family environment a person is having since childhood. The home environment must be very friendly and cooperative to develop a good personality of a kid. It is important as children adapt everything from their parents.
Talkative nature is mostly disliked everywhere; either it is school, events, or a workplace. In schools, it is troublesome for both the teacher and the student as there are more chances of learning less. In the professional life, such people become annoying for their colleagues as well as for delay in completion of their required tasks and duties.
The norms of the professional life must be considered in such cases. If someone is found too much talkative at work; the respective boss must take notice. This may cause hindrances in the work of other people who are much devoted to their work and put efforts into giving the best. Warnings can be given to such talkative people at work.
See also: warning letter for a verbal altercation

See also: warning letter for indiscipline behavior
Sample Letter-1
Excessive talking can have various disadvantages. It makes you appear as very show-off and boosting your qualities. When we talk less, it makes people curious about our personality. But when we talk more, we lose respect in front of others.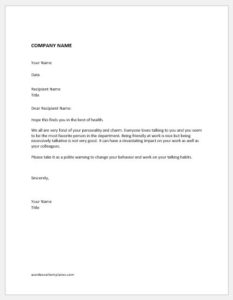 Dear Dani,
Hope this finds you in the best of health.
We all are very fond of your personality and charm. Everyone loves talking to you and you seem to be the most favorite person in the department. Being friendly at work is nice but being excessively talkative is not very good. It can have a devastating impact on your work as well as your colleagues.
Please take it as a polite warning to change your behavior and work on your talking habits.
With thanks
---
Sample Letter -2
Hello Meezo,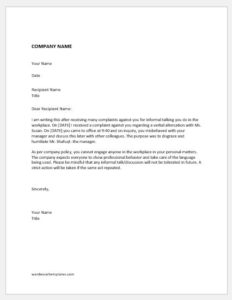 I am writing this after receiving many complaints against you for informal talking you do in the workplace. On [DATE] I received a complaint against you regarding a verbal altercation with Ms. Susan. On [DATE] you came to office at 9:40 and on inquiry, you misbehaved with your manager and discuss this later with other colleagues. The purpose was to disgrace and humiliate Mr. Shafuqt: the manager.
As per company policy, you cannot engage anyone in the workplace in your personal matters. The company expects everyone to show professional behavior and take care of the language being used. Please be mindful that any informal talk/discussion will not be tolerated in future. A strict action will be taken if the same act repeated.
Sincerely,