A warning letter is an official notice issued by an authoritative body against an individual's misconduct or inappropriate behavior. The need for issuing a warning letter arises when an individual has ignored or has not followed the instructions which were laid down by his/her supervisor or employer. It is considered to be the first step towards formally resolving an issue.
When writing a warning letter, the following points should be taken into consideration:
Visibly identifying the pertaining issue.
Discuss the issue with the employee (If this does not work then go for the third step).
Start preparing the warning letter.
Issue the warning letter.
How to write a warning letter?
The following key points should be considered while structuring the warning letter.
Senders name and address: Senders name and address should appear at the left-hand side of the notice.
Employee name:  The employee's name to whom the letter is addressed should be written a few lines below the sender's name and address.
Date: the official date on which the letter is written should be mentioned.
Subject: The purpose of writing the letter should be mentioned in the subject line.
Salutation: As it is an official letter it should start by addressing the employee in an appropriate manner i.e. Dear Smith, etc.
First paragraph: In the first paragraph, the reasons behind issuing the letter should be clearly mentioned with reasoning as to which incidents with specific dates have led you to draft the letter.
Second Paragraph: In the second paragraph, you should enlist the possibilities of improvement (if any).
End: the letter should end on a positive note thus motivating the employee in the right direction.
Your signatures: Signatures of the sender should be done at the extreme left-hand side of the letter, in the end, leaving a space for the employee for signatory purpose.
Sample Letter
Mr. ABC
CEO XYZ Textiles
Mr. Smith
Assistant Manager
XYZ Textiles
Dated: 10th July, 20XX
Subject: Warning letter for releasing or discussing company information
Dear Smith,
From the past few days, it has been observed that you have not only discussed information entrusted to you but also invited your co-workers for their opinion. Your supervisor has in the first instance warned you verbally of your ongoing discussions, but it seems that it was taken seriously by you.
Smith, you have been working as a responsible employee of the company. Your efforts are marketed by your increased performances. You are a valuable employee with whom we wish to work in our future endeavors. But this behavior of yours is creating a hindrance in it as it is certainly not tolerable.
Through this letter we intend to warn you of your ongoing actions otherwise serious action will be taken against you. We hope to receive a positive reply from you.
Yours Sincerely.
ABC
CEO XYZ Textile.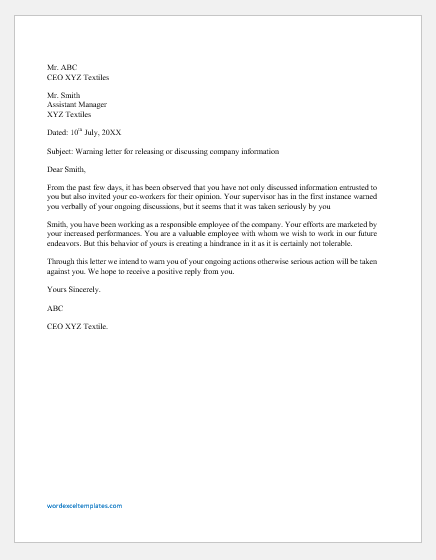 File: Word (.docx) 2007+ and iPad
Size 18 Kb
Download
---