Secret Santa reminder emails are the emails, usually, sent by the HR department or the person responsible for the secret Santa event arrangements. The email is addressed to all the employees, in which the sender reminds them of the event as well as the secret Santa gift they have to give. In addition, the details of the event, including the date, time, food, gift exchange, etc., are also provided in this email.
Many companies celebrate secret Santa, which involves giving gifts to their colleagues. One employee, who would be the secret Santa of another would buy a gift for that person, without him knowing who his secret Santa is. On the event, when the gifts are exchanged, everyone gets to know their secret Santa as well as enjoy the feast with their colleagues.
This event is mainly encouraged by the companies because it provides a chance for the employees to informally meet, have fun and talk outside the work setting. It develops their relationships, which can be beneficial for their teamwork. In addition, as Christmas time is holiday time, through this secret Santa event, the employees can celebrate Christmas with their other family i.e. colleagues. Such events increase the loyalty of the employees to the companies as well.
After the employees have been informed about the event, a reminder email is sent to them when the event is approaching. There are no hard and fast rules of this email and the variations are common. However, the general details included in a secret Santa reminder email are:
Inform about the email purpose.
Ask the employees to hand over the gifts.
Mention the last date of the gift collection.
Mention the details of the event, including date, time, venue, food arrangements, exchange of gifts, etc.
Encourage participation.
Christmas greetings.
Salutation.
The main purpose of this reminder email is twofold. One, to collect the gifts and second, to inform about the details of the event.
As this email can be sent to all the employees with a click, it is an easy way to communicate, inform and remind them about the secret Santa event.
Sample Secret Santa Reminder Email
Dear employees,
This is a reminder email for secret Santa. If you have already bought the gift, you can give it to me today, as I am collecting them from today on. We have the wrapping paper, so we can wrap them for you as well. If you have not purchased the gift yet, kindly, give it to me by Thursday, as we are celebrating secret Santa on Friday, i.e. 20th December 2019, at 1:30 p.m.
The event will be held in the office cafe. We will exchange the gifts and find out our secret Santa on that day. Also, the office has arranged lunch and Christmas treats for all our employees. Come, join us and let us all have the Christmas fun even before Christmas.
Looking forward to seeing you all.
Happy holidays! Merry Christmas!
Regards,
HR.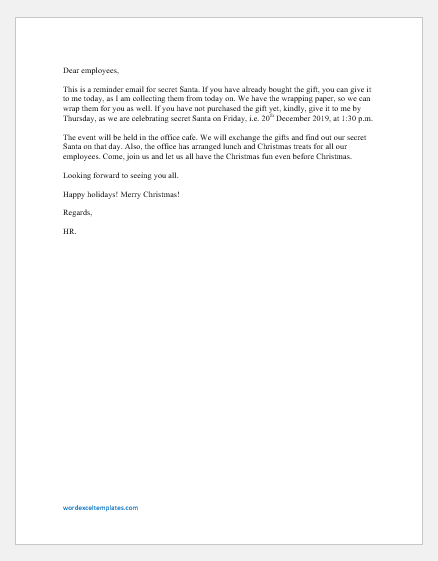 File: Word (.docx) 2007+ and iPad Size 28 Kb |
Download
---