As the name suggests, a new hire employee information form is used to seek details of an individual who is a new employee of the organization. This form is similar to the information form given to all the employees in terms of the requested information, with the only difference that it is given to the new hires. If the information needs to be updated or some new information is being sought, later on, the provided form would be called information form and not the new hire employee information form.
However, this form is different than an employee profile form mainly in two ways:
This is given to the new hires while the employee profile is usually not given at the time of hiring.
The focus of this form is gathering the basic information of the employee while the employee profile form aims to collect personal and professional credentials.
When a candidate is hired, an organization needs to record and save his details for any reference or tracking. As it becomes difficult to orally ask for the details, a new hire employee form is developed by the organizations and is given to the new employees to be filled either on the paper or on the computer (depending on the employed system in the specific organization). The key role of the new hire employee information form is to collect the information and details of a new hire for the organization. However, there are many other associated benefits of this form as well, such as:
Collecting the personal details of an employee, such as name, gender, address, contact, etc.
Recording the credentials of the employee, such as his qualifications, experience, employment history, skills, expertise.
Knowing the emergency contact and relationship with that contact to reach in an emergency.
Noting the employee dependents for different purposes, such as insurance.
Using his aspiring career goals to set standards for his performance if the new hire is a fresh candidate or has been hired for the lower to middle hierarchical level.
Knowing about a candidate by having the information about the previous employers or the reason behind leaving a job.
What an organization deems necessary to seek from a new hire in terms of his details is the main factor that decides what information would be requested through this form. Generally, the following information is sought:
Personal details.
Professional details.
Employment history.
The reason behind leaving the last job, if applicable.
Joining the date of the new job.
Aspirations and career goals
Expectations with the new job.
Undertaking that the provided information is correct to the best understanding of the employee.
When this new hire employee information form is provided to the employee to be filled, the employee should ensure that he is providing the correct information. Any misleading or confusing information should be avoided. This form would be kept in the employee file and can be reached and accessed whenever required.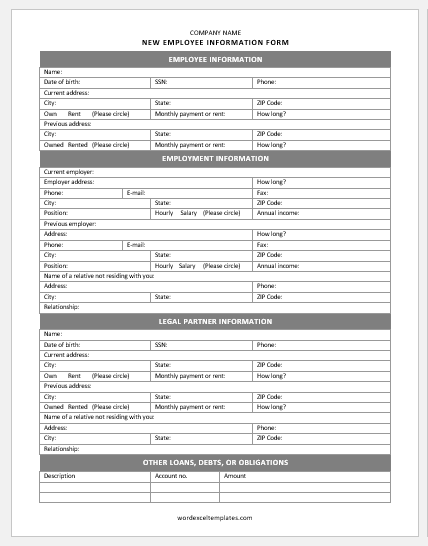 File: Word (.docx) 2007+ and iPad Size 38 Kb |
Download
---