Period Tracking & Excel Templates
Whenever women health issues are discussed, the first image which is forecasted in mind is about the gynae area. Your lady doctor will ask about your menstruation cycle, like when it last began and when it ended. These menstruation days tracking are the most helpful tool when you want to or not to conceive. It is the basis of women reproductive system.
There are certain days in a month when the process of ovulation is at its peak and eggs are ready to get conceived. In these days intercourse is recommended to get the woman conceived, on the contrarily you are advised not to intercourse in this evolution period if you don't want a child. Hence it is quite clear that human reproductive system functions on the foundation of menstruation cycle. Many reproductive disease diagnosis and treatments also rely on menstruation cycle tracking as the varying hormone levels have to be controlled.
With the growing ease of technology, tracking and calculating your menstruation days have become simple. previously most women forgot when they last have the periods. Taking help from a pre–designed period tracker has become common nowadays and nearly all the maternity clinics are keeping them as a diagnostic tool. Even women at home are downloading the monthly period tracker apps in their handy devices to remember their last menstruation cycle and get prepared for the next.
These trendy period trackers are available with engaging interfaces and many of them have extra features like temperature recordings and graphical representation. Take help from these trackers if you want to count your menstruating days on regular basis.
Preview and Details of Template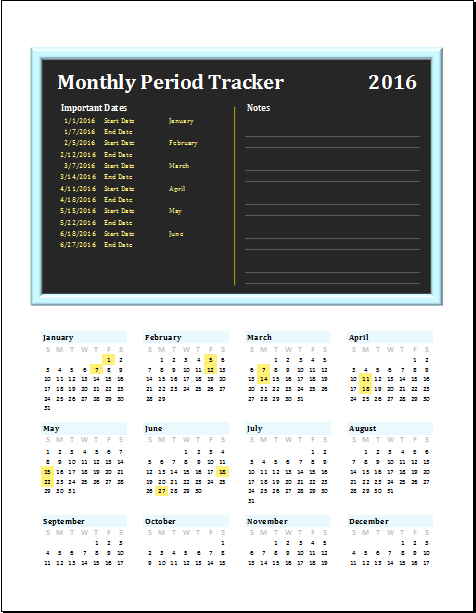 File: Excel (.xls) 2007+ and iPad 
Size 128 Kb   |  Download
File: OpenOffice (.ods) Calc [Cal]
Size 28 Kb   |   Download
License: ENERGY  (General Use)
(Distribution) by Kate Elizabeth(CEO)