Biggest loser spreadsheet
The biggest loser is a reality show on aired in Australia and is inspired by an American based TV show. This reality show revolves around the overweighing contestants who participate in it with the hope that they may lose the percentage of their weight.
Here, in order to keep everything balanced and unbiased, the weight of each contestant is measured in tenths of kilograms instead of pounds. So, because of the immense fame and interest of people, it has become more of a phenomenon than just a TV show now.
People, from all over the world and belonging to every walk of life, who share the same problem of being obese; try to bring this reality show to real reality, and by following the same rules start a competition among friends.
In this case, the biggest loser spreadsheet can work wonders for the contestants on the game. On this sheet, they can record the weights and other information about each participant.
The first and foremost task of playing this game is to make up teams then each participant's original weight is recorded in the spreadsheet so that the percentage according to it can be calculated later.
Because of a carefully and skillfully drafted spreadsheet percentage of the lost weight will be easily calculated and so each participant will be able to see his or her achievements throughout the weight loss journey.
If a person really wants to live a happy and healthy life and be fit, he needs to take such initiatives and closely follow the rules of the biggest loser. However, it is advised to consult a physician or nutritionist before following the rules.
If the person deems it fit, he may use the weight loss challenge spreadsheet template in order to keep his weight loss planned and to ensure that no detail is missed out while recording.
A typical biggest loser spreadsheet is drafted in columns and rows format and the name of each participant is mentioned. The date of the start and the date on which the weight will be calculated again are also mentioned at the top of the columns.
Preview and Details of Template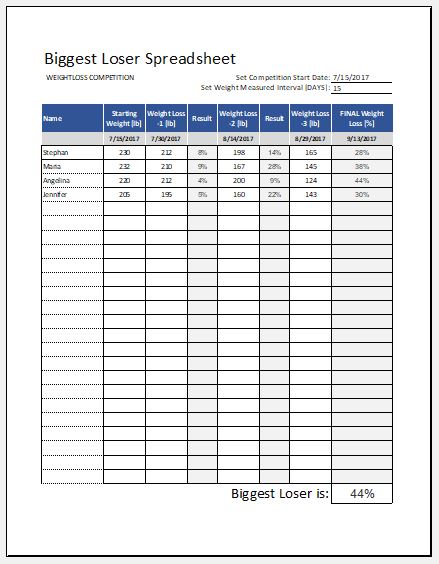 Weight Loss Challenge Spreadsheet Template
File: Excel (.xls) 2003+ and iPad 
Size 21 Kb | Download
License: ENERGY [Personal Use Only]