What is veterinary prescription pad?
The veterinarian needs to use the prescription pad for prescribing different drugs for animals that got injuries or any type of disease. Animals also need love and affection just like human beings. They also need medical treatment when they get injured or become ill.
The purpose of medical treatment is to help them recover quickly. Only those veterinarians are authorized to treat the animals who have been registered and licensed. Treating animals also requires you to get a special degree.
People nowadays are so much concerned about the health of their animals and therefore, they want to consult those veterinarians who have license and are capable of treating the animals with responsibility.
No matter you are a professional and experienced veterinarian or new in this field, you will always be in the need to use veterinary prescription pad in order to be able to prescribe the drugs to animals.
Why the prescription pad is important?
The Prescription pad is very important for every veterinarian who wants to prescribe medicines to the patient. The prescription pad includes the information regarding the doctor and his clinic. The doctor can be contacted easily through the contact details mentioned in the prescription pad.
Some medical stores are allowed to give the medicine to patient only if they bring the prescription of the specific doctor. In such a situation, the patient will need the prescription. Another very important purpose of using this pad is to not allow anyone to take the medicine from medical store without showing the prescription.
What are the key components of veterinary prescription pad?
This prescription pad includes the details such as:
Name of clinic
Name and qualification of veterinarian
Name of animal
Name of pet owner
Name of medicine prescribed
What are the benefits of the veterinary prescription pad?
The prescription pad is necessary for every medical practitioner but also very beneficial. In many states, people are not allowed to get medicine of any kind without showing the prescription. The prescription pad is beneficial for a doctor and patient in a number of ways.
Doctors need the prescription pad in order to prescribe the medicine to their patient. This prescription becomes the identity of the doctor which means no other prescription can be accepted on behalf of that doctor.
The prescription pad is a great tool for the doctors that not only increases their efficiency but also enables them to improve their clinical work.
The name of medicine is usually communicated through the prescription that makes it easier for the doctor to prescribe the medicine and the using instructions.
Veterinary prescription pad templates:
The prescription pad template for a veterinarian is a great tool since it saves him from having to make the prescription pad from scratch. Getting a prescription pad designed is costly. The template is completely free that saves the time and cost of the veterinarian. You can also bring modifications to the template in order to make it suitable to be used.
See also: Doctor prescription pads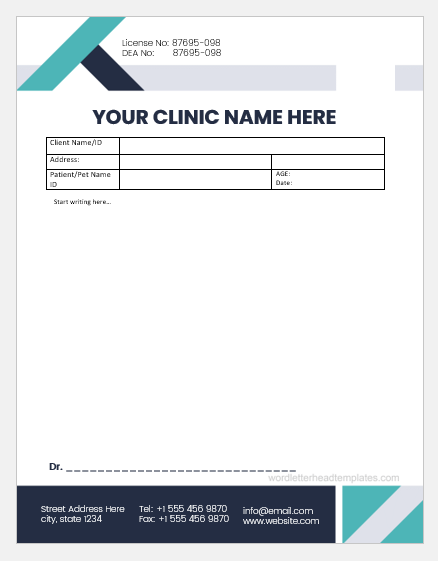 File: Word (.doc) 2007+ and iPad Size 90 Kb |
Download
License: ENERGY  (Personal use only)
(Distribution) by Kate Elizabeth(CEO)
---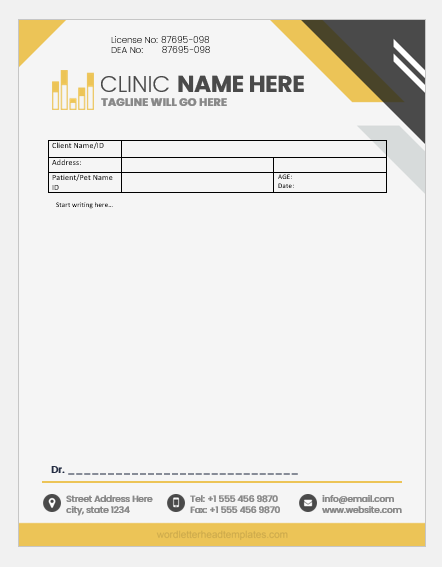 File: Word (.doc) 2007+ and iPad Size 103 Kb |
Download
License: ENERGY  (Personal use only)
(Distribution) by Kate Elizabeth(CEO)
---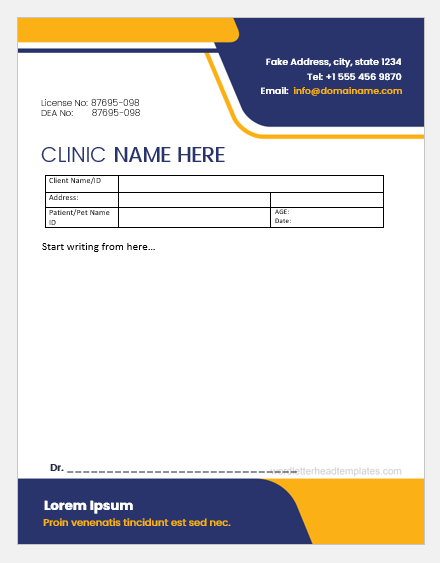 File: Word (.doc) 2007+ and iPad Size 93 Kb |
Download
License: ENERGY  (Personal use only)
(Distribution) by Kate Elizabeth(CEO)
---