People who work on daily basis will agree that there are some days when we don't want to do to office because of health issues. This is not humanely possible that a worker or employee doesn't get sick and does not require a day or two off from work.
Working continuously and even in sick condition, worsens your health and pushes you to poor health and poor quality of life ultimately. What is the purpose of this job and earning this much if we can't have rest in days of sickness?
But there is always a proper way of doing things. Offices and companies and every organization do have a system of medical excuse which they expect to be followed by their employees.
When is a medical excuse note used?
A medical excuse note is used in cases like;
You are having high grade fever and sore throat.
You need to undergo an examination or diagnostic test in the lab.
If a lady is pregnant and suffering from some obvious symptoms, a medical excuse form is used.
Who can issue medical excuse note?
A physician assigned by the company only can issue the medical excuse note. All the other notes are considered invalid until and unless there are some obvious reasons or emergencies.
Every time you need excuse for missing work, you need to go to the designated doctor for this purpose.
How a medical excuse form is filled?
While filling the medical excuse form, a doctor needs to be very careful in examining and reporting the patient.
He must not try to favor the employees unnecessarily and affect the performance and discipline of the company in a bad way.
At the same time, he must not be over strict to restrict medical excuse of seriously sick workers.
While filling the excuse form, the doctor has to mention his own name, contact, email address and address so that the company can contact them for verification or follow up. This is important because some offices offer insurance and cover for the absentees of the employees. They need to keep their record crystal clear.
Date on which doctor examined the employees has to be mentioned so that the exact day of absence can be identified and marked in the system and a worker is not marked as absent instead of informed leave.
Then the doctor has to write in his own words that the particular person from a company has been suffering from which specific disease and he has to certify that his condition does not allow him to attend the office, factory or whatever place it is.
In the notes section, he has to mention all the details of the patient and his presenting ailments. He has to mention the initial examination taken by him and any significant findings are discussed in detail.
Purpose of this is to clearly elaborate and justify the reason for absence and then at the end, he has to sign the note taking full responsibility of the note.
Doctor's note to skip work (in the future)
To whom it may concern,
I have examined Mr. Jacob Smith on 12th March, 2019. He has been diagnosed with appendicitis which needs to be immediately operated. His operation is scheduled on 14th April, 2019 at 11:30 a.m.
I request you to kindly excuse Mr. Smith for four days starting from 14th April, 2019 till 17th April, 2019, as he will be needing the recovery period as well.
If you want any further information, you can contact me at [Contact]
Regards,
Jennifer Steven.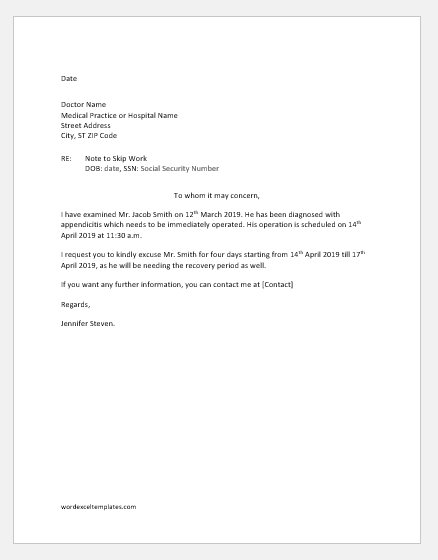 Doctor's note to skip school (in the future)
Dear Principal,
It is to inform that John Will, student of 5th grade, section blue, cannot attend school on 14th April, 2019. He has a XYZ vaccination due on 13th April, 2019 at 8:00 p.m. and its side effects include weakness, fever and dizziness. He needs a recovery period of at least one day.
Kindly, excuse him for 14th April, 2019.
Regards,
Sarah Smith.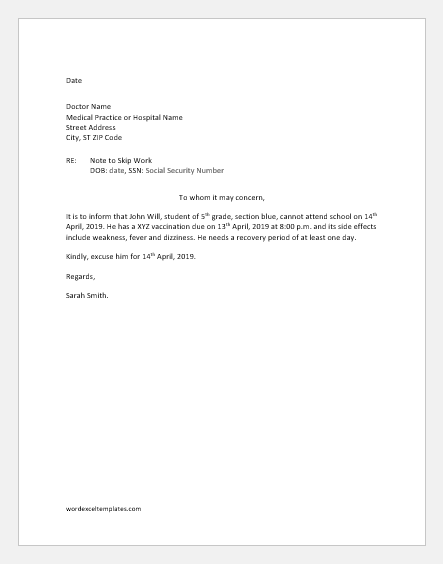 Doctor's note to excuse myself for a day I already missed (school)
Dear Principal,
One of your students, Monica William of 2nd grade, fell in the school playground while playing football on 11th March, 2019. Her mother immediately brought her to the hospital. I had to stitch her wound and keep her on sedatives for a day, due to which she could not attend the school on 12th March, 2019.
Kindly, excuse her absence on 12th March, 2019 as she was under my treatment in the hospital on that day.
Regards,
Ross Aniston.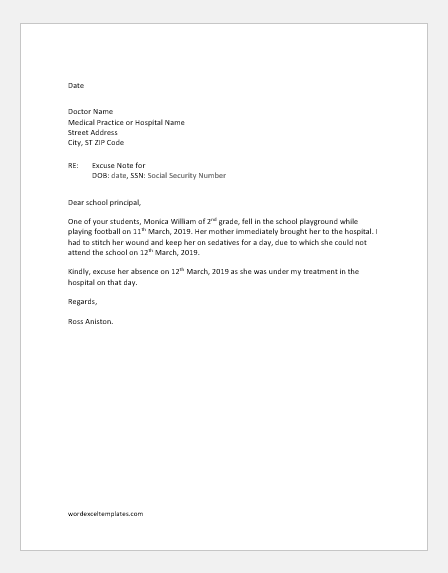 Doctor's note to excuse myself for a day I already missed (work)
To whom it may concern,
Please excuse Ms. Jill Geller for 15th February, 2019. She has been my patient since the last two years because of her back pain. She is on medication as her spine is too weak for any surgeries. Ms. Geller came to me in the morning on 15th February, 2019, with a complaint of unbearable backache. After examining and giving injections, she still could not get up. I suggested that she should stay in the hospital for a day which is why she had to skip the work.
I request you to spare her absence for that day.
Regards,
John Watson.