It is crucial to keep an eye on what you eat every day. This is because your eating habits have a strong impact on your health as well as on your quality of life. Due to the increased awareness, people nowadays know what they should eat and what they should not eat. However, only a few of them have self-control. Therefore, meal planning is essential.
Planning your meal can help you control what you eat. This way, you can easily prevent yourself from overeating or eating something that is not healthy.
What is a daily, weekly, and monthly meal calendar?
It is a meal schedule that is used to plan what a person wants to eat on a daily, weekly, and monthly basis. Planning is done not only because you want to hold yourself back from eating unhealthy food but also because planning makes your life easier.
Why is the meal calendar important?
Planning meal is the most important aspect of our life. It helps us schedule our meals conveniently. There are some days in a month when we feel indecisive as to what we should eat. If we have a calendar in hand, we can easily prepare our meals.
Some people also prepare their meals for a week and stay stress-free for the rest of the week. It is easy for them to prepare food for the whole week when they have a calendar they can use as a guideline. Whether you have a daily calendar or a monthly meal schedule, you will always be able to prevent yourself from the unnecessary consumption of food. This way, you will be able to save yourself from overeating and also from overspending.
How to create a meal calendar?
If you are someone who does not know how to create a calendar, here are a few tips for you to follow:
Keep your purpose in mind:
While you design a meal calendar, you should keep the purpose of the calendar in mind. Some people want a calendar because they want to eat healthy food and the calendar keeps reminding them to eat healthily and stay away from junk food. Similarly, having your purpose in mind will help you add appropriate meals to all three meals of the day.
Talk to your doctor:
If you are suffering from any underlying disease, you should not design a calendar unless you have a meeting with your doctor. Your doctor will suggest you some healthy food items to add to different meals in a day and week. Then, you can easily plan your meals and stay healthy. People with diabetes are often suggested to meet their doctor and take suggestions before they plan their meals.
Consider your budget:
Sometimes, you cannot eat certain meals that you have added to your calendar because you cannot afford them. When this happens, you don't follow the calendar, and this way, sticking to the calendar becomes a challenge.
Determine your food tolerance:
There are many such food items that you cannot eat because your body is not tolerant of them. In addition, sometimes you cannot eat a meal with a specific ingredient. So, when you make a plan, make sure that you avoid all the food items with that every ingredient. This way, you maintain good health and eat healthy at the same time.
Using the template:
From some sources, you can download the calendar template. These sources provide the template designed in various styles. These templates can be downloaded in some very commonly used file formats such as PDF. You become stress-free when you get your hands on a template as you don't have to create the template from scratch. Since the template is editable, the user can change those meal options that he does not want to see in his schedule.
The template usually provides a meal planner for a week. The user can repeat it by shuffling meals on different days to create a calendar for the whole month. Whether you want a calendar for a day, week, or month, the template will always facilitate you with the easiest-to-follow calendar.
Preview and Details of Template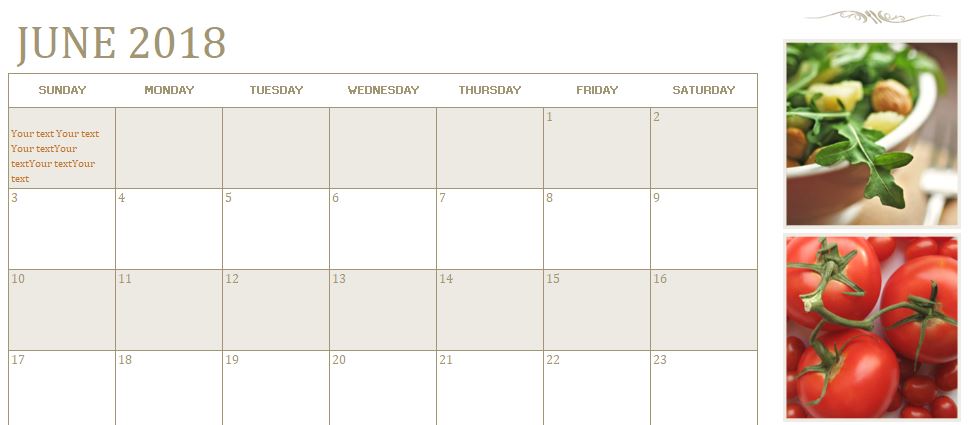 File: Excel (.xls) 2003+ and iPad 
Size 951 Kb