Spare Part Lists
A spare parts list is used to document the entire inventory or the spare parts of any machinery. It is an important document used by most of the businesses dealing with the machinery or other products. The list of spare parts placed in the warehouse of the company is prepared at the time when the entire stock of the company is purchased.
The main purpose of using the spare parts list is to keep the record of all the components which have acquired for the inventory.
Elements of the spare parts list:
The main elements of the spare part list are:
The name of the company
The names of the stock that have been purchased and brought to the warehouse.
New machines and parts name
Price of each spare part
Price of new stock
Quantity of each stock
Signatures of manager of the stock
Many companies use the spare parts list to let their client know about the available stock and also about the new stock that has brought recently. The objective of sharing the list of spare parts with the company is to boost the business. It is considered as one of the business strategies.
Spare parts list templates:
There are different types of spare parts lists which are used by many businesses depending on the nature and needs of the business. The template for this list can be obtained and downloaded from this website.
This template has been designed to be used by a commonly used spare parts list. However, if you want to design a spare parts list specific to your business, you can customize this template.
Adding the details in the template is very important because, without it, you can never get a useful template for your inventory of spare parts.
The layout of the template can also be customized according to the needs of the business. Make sure that your business requirements complete all the details and the structure of this template.
Preview and Details of Template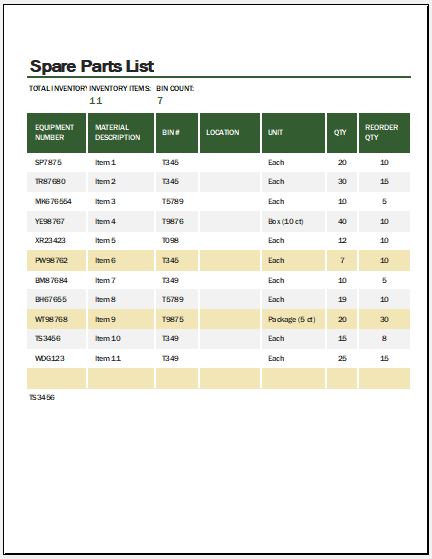 Spare Parts List Template
File: Excel (.xls) 2003+ and iPad 
Size 23 Kb | Download
License: ENERGY [Personal Use Only]