What is the service price list?
A service price list is a document in which a service provider includes the list of services he provides as well as the cost of each service. This price list is designed for the customers and clients who want to know the cost of services so that they can decide whether to avail of those services or not.
Importance of service price list:
Designing the service price list can determine the success of the business sometimes. When a business wants to evaluate the profit margin, it can create a service price list. No doubt, creating the service price list is the main element of the marketing strategy of any business. A business with no service price list is less likely to get more customers as compared to those businesses that use the service price list.
What are the benefits of the service price list?
1. A service price list creates the first impression:
No doubt, what a customer notices about a product at a very first glance is its price. Sometimes, the decision of the customer or the client is completely based on how a business has priced its services. The customer then compares the price mentioned in the services price list with the price he has perceived. The customer also compares the price with the qualities of the product. If the customer finds that the price is reasonable, he can decide to get those services. In this way, the services price list works.
2. It is an integral part of the promotion strategy
Price plays the most important role in the promotion of sales. Businesses that use the services price list are likely to boost their sales because customers find all the details about the prices at hand and they don't have to face the hassle of asking the price of every product.
3. It makes a business come across professionally
When a business uses the services price list, it comes across a professional business. The customer comes to know that the business really cares for its customers by displaying the services price list.
What should be included in the services price list?
A services price list predominantly includes the following details.
ID number of each service provided by a business
Type of service
Description of each service provided
Price of services including taxes
It also includes simple introductory details of the business such as
Name of the business
Logo of the business
Contact details of the business
Services price list template
A simple and most commonly used price list is usually prepared in MS Excel file format. It includes four or more columns in which the details regarding the prices are mentioned. Using the template is very beneficial because it has a professional look and also does not need the user to fuss over the details to be added to the services price list. The user can easily download the template and use it after personalization.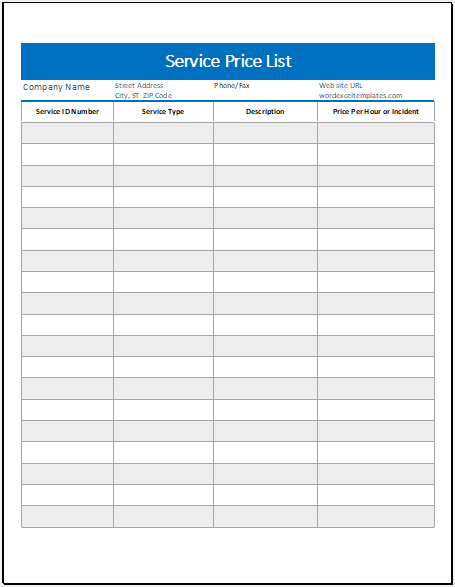 File: Excel (.xlsx) 2007+ and iPad Size 31 Kb |
Download
---