Traveling is defined as the movement of an individual from one place to another. This movement, to anywhere in the world, can be due to business meetings, conferences, seminars, friends' trips, vacations, or any other tour. It allows you to step out of your comfort zone and try to adapt to the changing environment which can be very overwhelming therefore, it is important to have necessities at your disposal which will keep you well-dressed, prepared, and able to face unforeseen situations.
A travel packing list refers to a document that enlists all the items necessary for taking a trip or traveling. It contains all the things that an individual might need while away from home. These things may include documents, toiletries, clothes, etc.
Traveling can be very tiring but packing for it is even more tiresome. A travel packing list can be very helpful in the long term because almost traveling trips required similar necessities, but further addition can be made with the passage of time. If the list has been prepared, it is just a matter of minutes to pack everything in a suitcase and leave.
List Contents
The contents of a travel packing list vary from person to person and depend on various factors. Some of these factors are mentioned below,
Purpose of travel
Weather conditions
Duration of travel
Tourist spots visitation
Accompanied by
All these factors greatly take part in the preparation of the packing list, but all the information can be very helpful for a smooth and enjoyable trip.
Some of the major contents of the travel packing list are given below,
Clothing
Clothes and shoes are usually selected based on the weather forecast. If the destination has a warm climate, then shorts and breezy outfits are preferred, and vice versa.
Formal Dresses
Casual Dress
Night suits
Undergarments
Belt
Jackets
Shorts
Socks
Shoes
Formal
Casual
Flip flops
Documents
It is important to keep the following document safe because while traveling abroad, these documents can save you from troubles and inconveniences.
Travel documents
Tickets
Visa
Passport
Meeting minutes
Accommodation passes.
Boarding passes
Toiletries
While traveling, it is not easy to immediately find toiletries that suit you and do not cause adverse reactions therefore it is advisable to carry these with you.
Shampoo
Body wash
Lotion
Soap
Perfume
Makeup.
Electrical appliances
Charger
Mobile
Laptop
Curling rod
Power bank
Ear pods
Camera
Miscellaneous
Wallet
Snacks for transit
Medicines
Water bottle
Umbrella
The above-mentioned list can be customized according to the demands of an individual, but it usually includes these major categories.
How important it is to keep a travel packing list?
Travel packing list have proved their significance over time because of the following reasons,
An already prepared list reduces the packing time to half because it does not involve thinking and remembering things to pack.
It can be shared with others because the contents of a travel packing list are usually similar.
It can be used repeatedly for different trips.
It can be customized according to the demands of the individual preparing it.
Once the packing is done, all the items from the list can be checked off to ensure that everything has been accounted for.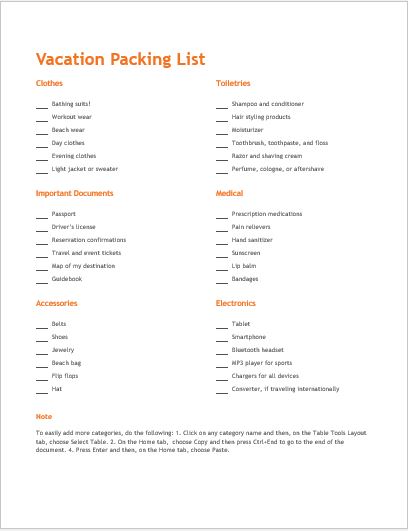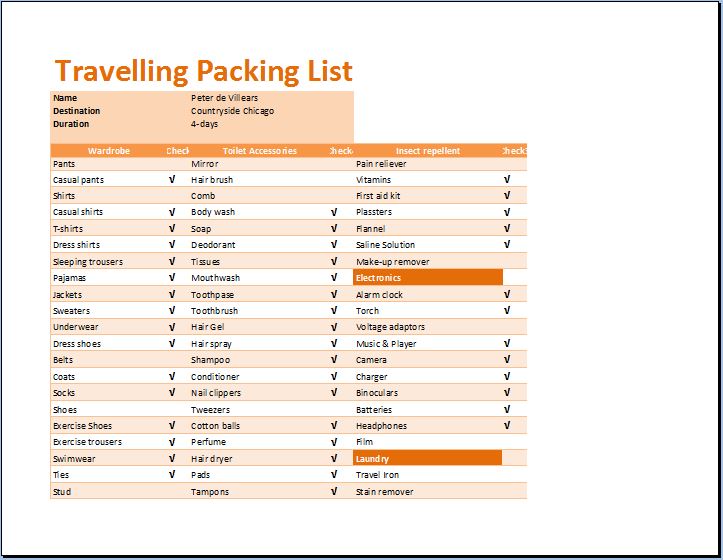 File: Word (.doc) 2007+ and iPad
Size 26 KB
See also: