The use of tenant inventory sheet ensures that the information of all the tenants in the areas is being kept in a safe place. This is a useful document for the landlords who want their property be looked after by the tenants. Many agents can also use this document on behalf of landlords to keep the details of tenants.
The tenant inventory sheet is one of the main documents which are used when an agreement of legal contract is signed between the tenant and the landlord. The use of this sheet ensures that all the details regarding the inventory of the tenant have been cleared.
The template for tenant inventory sheet can be downloaded from this website. This main purpose of using this template is to keep the details of the tenants in one place in most systematic and organized way.
It provides a free and premium designed framework that is very easy to access and use. The user of this template finds it too easy to input the details because of a user-friendly interface. One of best things about this template is that it allows you to edit it and bring changes in its format to make it suitable for you.
You can divide this template into some categories and then organize the data in these categories. Organizing the data in the categories enables you to retrieve the data from the large database that saves your time. Certain portions of the template can be tweaked as you need.
When you want to ensure that all the aspects of the property have been recorded, the use of tenant inventory template is the best tool. It enables you to document everything on a piece of paper.
Key elements of tenant inventory template:
The key details that are added to this inventory are:
The names of tenant
The details of the items that belong to the property
The contact details of the tenant
Status of property
This inventory template ensures the safety of all the items that come with the tenant.
Preview and Details of Template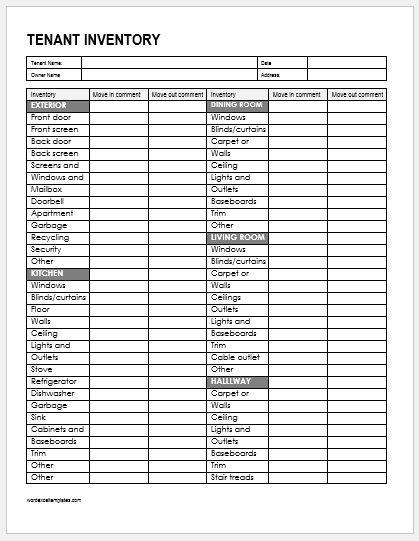 Tenant Inventory Template
File: Word (.doc) 2003+ and iPad 
Size 31 Kb | Download
License: ENERGY [Personal Use Only]