Sometimes, we have to write a letter to our previous boss regarding a new job opportunity in his company. We often leave our job because we think we are going to have better employment opportunities after that. However, it turns out that our decision was wrong. It compels us to write a letter to our previous boss.
People are recommended to always end their job on a positive note because they often need their boss for reference and recommendation. Sometimes, they also need to go back to their boss for employment purposes.
How to write a letter to your boss to get a job position?
When you have already worked in the company and your boss knows you well, you don't need to apply through a conventional process to fish for a job position. In simple words, you can write an email or a letter to his boss and ask for a chance.
It is important to note that the employee can write this letter when he has chosen a professional course to leave the job and remained sincere with the company throughout his employment period.
Drafting the letter…
There are certain situations in which you can think of going back to your former boss:
When there are certain changes in the structure of the company that made you resign from your job in the past.
The company has adopted new technologies.
People you were not comfortable with have left.
1:
Subject: Letter regarding the previous job
Dear Mr. ABC,
I resigned from the position of an accountant six months ago. I have joined another educational institute. However, I came to know that the environment and job conditions at the new workplace are not as expected. Therefore, I am writing this letter to ask you regarding the possibility of returning to the job as an accountant that I held for around 5 years.
I am regretful about taking the decision of leaving my job. I assure you that I can meet my commitments.
At my new job, I have worked as a senior accountant and my job role was a bit different from my previous job. I attended many workshops at XYZ Company and learned to use different accounting-related software.
Please accept my request to rehire me for the position of accountant available right now. I understand that there is a proper procedure to follow and I am ready to go for it if you let me know if I am eligible to apply again.
Thank you so much for considering me in advance. I am looking forward to your kind reply. It would be great to work with you once again. Feel free to contact me on [Contact].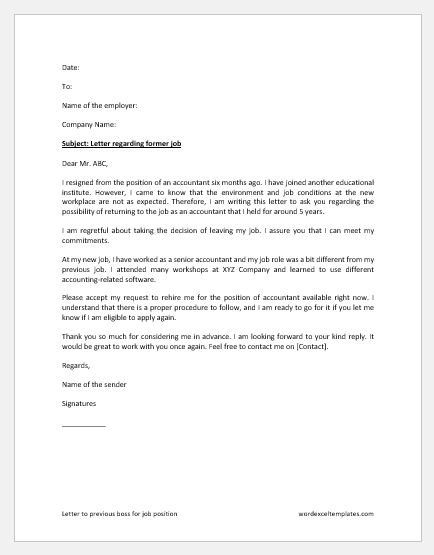 File: Word (.docx) & iPad
Size 22 KB
2:
Subject: Request Letter regarding the former job position
Dear Mr. ABC,
This is Mrs. Alex. I have worked in your company as a finance manager for 4 years. Although I left the job for personal growth and career development, I realized that I am unable to see any growth in myself. My new job has so much to offer such as a high salary and bonus as well. However, I am not comfortable working there because of hostile working circumstances. I was way more comfortable working in your company.
During my new employment period, I have so much experience in the area of finance. I have improved my analytical skills and also learned to use much software that help me generate reports and create different related documents. I believe that my skills have improved now and now I am in a better position to work as a finance manager in your company.
I am confident that I will be able to work more professionally and you will be so happy to see my performance and the efforts I put in to succeed in meeting my workplace-related goals.
I am looking forward to hearing from you soon. Please contact me on my official number.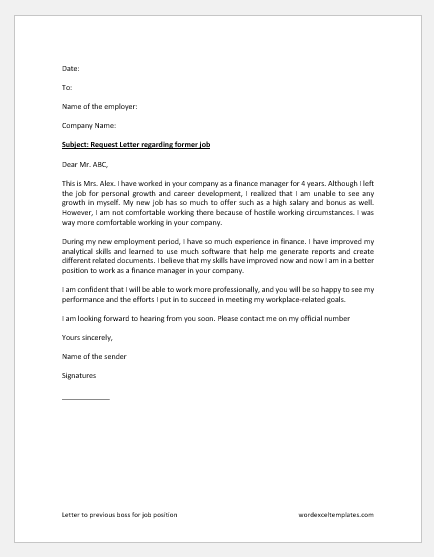 File: Word (.docx) & iPad
Size 22 KB