What is a letter of reapplication to your previous job?
It is a formal application letter in which the person addresses his former employer and requests him to reconsider him for a vacancy. People apply for different job positions whenever they hear about a vacancy. Similarly, when a person applies to a job position he had already worked on, it is called reapplication. It might be different from the conventional application as it may not require you to go through the entire process of recruitment and a single email or an application letter can be fruitful.
Writing the application letter…
If you want your reapplication to be approved readily, you should take care of the following aspects while writing this application letter:
Introduce yourself:
At the start of the letter, give your introduction without if the employer remembers you as he has so many people to remember.
Request to rehire you:
Ask him to hire you again because you are up for the vacancy, and you want to work for his company. If you have a good track record, mention it, and discuss your achievements. This will give a boost to your request.
End with a commitment:
Let your boss know that you are committed to working with more diligence and devotion. Make a promise that you will never make him regret his decision to rehire you. Below are some sample letters to assist you with writing the letter in your specific situation.
1:
Subject: Reapplication to a former job
Dear Mr. ABC,
I understand that I left the job as an assistant director one month ago and started to work in a new company in the same position. However, I was unable to cope with the new environment and working conditions of the new workplace. Therefore, I am writing to know about the current circumstances in your company.
I am deeply regretful for leaving your company and striving to return so that I can fulfill my long-term commitments with your company.
During my job at the new workplace, I have gained new experience and my analytical and communication skills have improved a lot. The purpose of writing this letter is to ask you if there is any possibility to reenter the company on the same post. Now, since I am more qualified and well-versed with the skills needed to work for the post of finance manager, I am hopeful that I would be a very productive part of the company.
I hope that you will consider my request and therefore, I am looking forward to your response to this reapplication. I would appreciate it if you organized a meeting with me. Please feel free to contact me on my official number.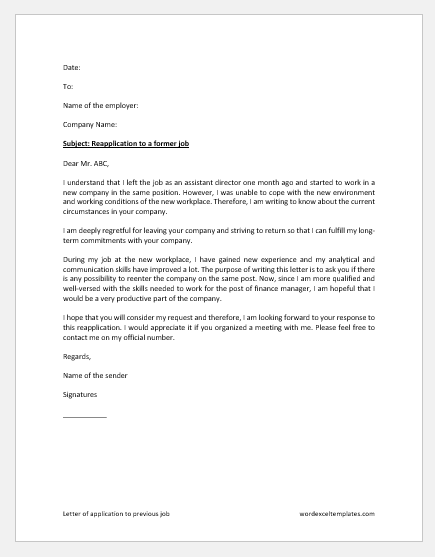 File: Word (.docx) & iPad
Size 21 KB
Below is another sample letter written by a candidate to his former employer for rehire application.
2:
Subject: Letter of reapplication for former job
Dear Mr. ABC,
I am (mention your name), an old employee in XYZ company in the position of (mention your job post). I am writing this letter to request you to rehire me in the position of (mention the position).
I resigned from the job because of health issues. I had to stay at home. However, now I am perfectly fit for performing my job responsibilities again. I am looking for a job these days. I would like to request you to consider me again for the job opportunity.
My previous performance was too good, and I have numerous achievements in the company. I have worked for 5 years in your company and during this time, I won many awards. You can check my record file to evaluate my performance. This will help you make this decision.
I assure you that I will fulfill all my job duties with honesty and sincerity. You will be impressed by the commitment and devotion I will show at work. I hope that you will consider me for the vacant position. I am looking forward to your kind response.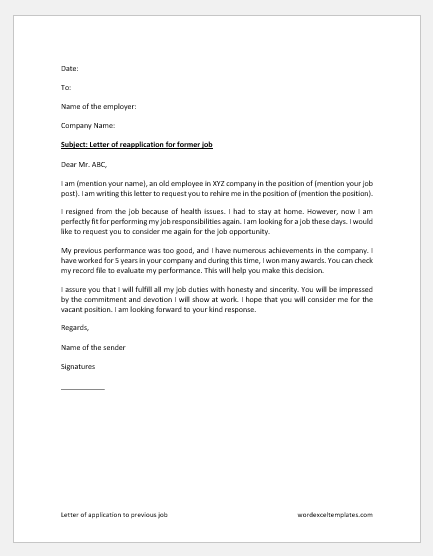 File: Word (.docx) & iPad
Size 21 KB