Employers often write letters to reprimand their workers who show any kind of indiscipline. No one wants to receive a warning letter. However, organizations never compromise their integrity and discipline. Due to this, some integral procedures are communicated to each and every staff member.
A company holds the right to admonish the employee when he doesn't show complaints about the mandatory procedures of the company. It is important to note that a company is allowed to write this warning letter only when it has communicated the course of action to be strictly followed by everyone.
What is the purpose of warning the employee?
People who are not reprimanded when they do anything wrong never improve their behavior because they know that they can easily get away with it. When they receive the warning, they realize that it is not so convenient to follow a procedure and then escape the consequences.
Tips to write the reprimand letter:
Following are some important tips to follow:
Use a serious tone to show that not following procedures is an offensive act.
Write a short warning letter so that the employee doesn't struggle to understand the main message you are trying to convey.
Mention the procedure that has not been followed.
Mention how and in what ways you have communicated the procedures you want employees to be followed.
Following are some sample warning letters for those who don't know what it looks like and how to make it an impactful letter
1-
It has been brought to my notice that you are not following the procedures of the company. The company has prescribed various procedures to its employees and all the employees are required to follow those instructions.
A company pronounces a course of action for every person that ensures discipline in the company. When some of the employees don't follow that course of action, they show that they have no respect for the organization they work for. Due to this, the company is issuing you a warning letter.
I hope that receiving the reprimand letter will correct your behavior and help you understand the seriousness of the matter. Please note that failure to follow the procedure in the future will result in dire consequences in the future. If you have anything important to discuss with me regarding this matter, I am ready to arrange a meeting with you.
______________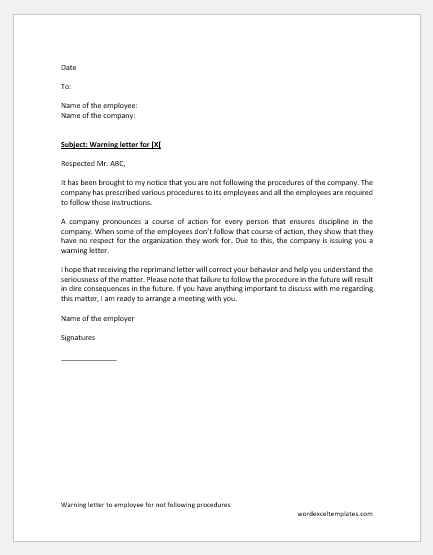 File: Word (.docx) & iPad
Size 21 KB
Another warning sample letter written to the employee who is not following SOPs for COVID is given below:
2-
Please consider this letter as a formal warning issued to you for not following SOPs.
The hospital administration has received a complaint against you that you are not following COVID-related SOPs. During my visit to the hospital, I have seen that everyone was wearing the mask except you. In addition, you are not making patients and staff under you follow SOPs.
It has been made clear to all the staff members many times that wearing a mask is a must and there is no other way to prevent this disease. I have also seen that the sanitizer is also not available in various wards of the hospital which is also a very alarming situation.
You are a senior doctor, and we expect a lot from you in terms of following the course of action regarding COVID. Your negligence can put the lives of hundreds of patients at risk. I have never expected you to be negligent at this level. Note that if any patient catches the disease, you will be held responsible.
Furthermore, the hospital holds all the right to take serious actions against you if you don't show compliance with the rules and procedures of the company. 
If you have anything to discuss with me regarding this matter, feel free to contact me.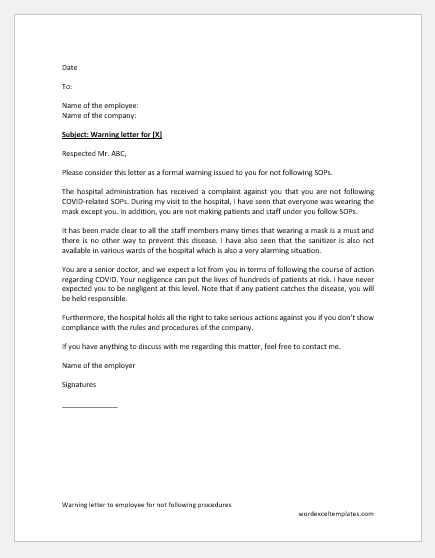 File: Word (.docx) & iPad
Size 21 KB