Suitable working conditions at the workplace form the foundation for a healthy and friendly relationship between the employee and the employer. The broad horizon of unfair conditions covers lots of aspects including more than required working hours, reduced resting period, no paid leave, mental pressure, and whatnot.
Companies that don't monitor the circumstances prevailing at the workplace often fail to keep the productivity of their employees at a certain level. As a result, workers become lethargic and slow. Some people also choose to resign from their job when they learn that they cannot work under such unfavorable conditions.
What is a letter of resignation due to unfair conditions?
This is a formal letter that a worker writes to his/her boss in order to notify him that he is leaving the job due to an unreasonable atmosphere at the workplace. This letter clearly states that you are dissatisfied with the environment and therefore, you want to exercise your right of finding a new job elsewhere so that you can focus on your physical and mental well-being in addition to making money.
Why it is important to write a letter of resignation?
When you are not satisfied with the kind of working conditions in the office, it is very important that you communicate with the employer. The employer should know about the reasons for workers' dissatisfaction so that he can take necessary actions to ensure that not everyone in the company starts feeling the same.
Employers also like to retain their employees who work diligently and contribute to making their company successful. So, when they receive a letter of resignation due to unfavorable circumstances, they try to bring changes to the system so that the satisfaction level of the employee can be increased and he can be retained.
This letter also gives confidence to those people who are already being exploited but don't speak up because of the fear of losing their job. They can also come forward and describe what is unfair in the workplace.
How to draft?
Use a polite tone:
You are quitting the job because you are unhappy and this might be a very difficult decision for you. However, nothing should make you bitter and you should remain polite even when you are addressing the issues you have faced at the workplace. You might need to contact your employer for recommendations in the future, therefore, ending on a good note is recommended.
Describe the reason:
If you want the employer to take action and improve things even after you have left, clearly describe what you have been through and how to fix things.
Send best wishes:
Close on a positive note by sending best wishes to the company and showing gratitude.
Sample resignation letter
Subject: Resignation due to unjust conditions at [XYZ]
Respected sir,
I am writing in order to let you know that I am resigning from the position of assistant manager. I am so remorseful to inform you that I have taken this decision due to unsatisfactory working conditions at the workplace. My last day will be 1st May 20XX. Please accept this letter as a formal notice of two weeks prior to leaving this job.
I have worked in ABC Company for more than five years. During this time, I was constantly asked to work extra hours and I was not paid enough for those extra hours of work. I thought it would not be possible for me to survive by refusing to work extra and so, I kept managing things and doing unpaid work for the company.
However, this has put real pressure on my physical and mental health and there has been a huge decline in my health. I have come to the conclusion that I am unable to work in such an environment and I should quit as soon as possible.
I really appreciate ABC Company for giving me lots of opportunities to work and gain experience. I have met many cooperative and kind people here and I am going to miss them in the future also.
I wish ABC Company lots of success and I hope that no other worker in the company will have to go through the same unfair environment. Please let me know if there is something you want to ask me.
Regards.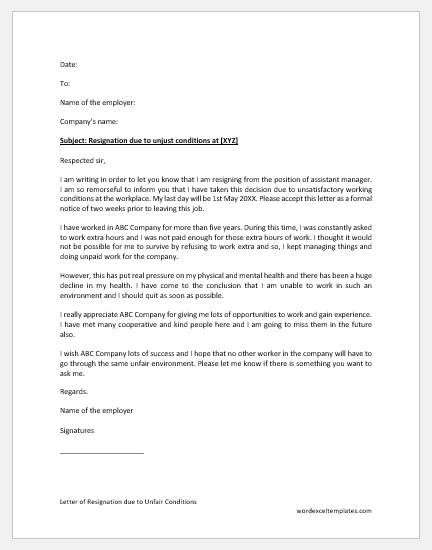 File: Word (.docx) & iPad
Size 22 KB
See also: