Mobile phone is a serious distraction for everyone no matter which walks of life they belong to. It affects the productivity of the person. Therefore, companies these days are devising strict policies of not using a cell phones in the workplace. The policy is not just to prohibit people from using mobile phones at the workplace but also, to reprimand those who constantly violate the laws and obligations of the company they work for.
What is a warning letter for using a cell phone?
Organizations often issue a warning letter to those employees who don't seem to stop using cell phones while being in their office. This letter tells the workers that they have been seen using cell phones despite having been told that it is not allowed in the office. The purpose of this letter is to rebuke those people who don't seem to understand things when they are communicated politely.
What should a warning letter on mobile usage do?
This letter should highlight all those ways in which the reader has violated the policies of the company regarding cell phone usage. The employer, after reading this letter should be able to understand that he has been involved in a serious offense of breaching the law. This way, he will be able to understand that he has committed a mistake and will try to correct his behavior. This way, the warning letter will serve its purpose.
What should you add to this warning letter?
Below are some basic components that your warning letter must include to make yourself sound serious.
A warning statement:
Just like any other reprimand letter, this letter should also include a clear and concise statement to let the employee know that you are disappointed and upset to see him using his cell phone despite telling him a lot of times that it is not allowed. Your tone in the letter should be serious and the reader should come to know that now things are serious, and he needs to change his behavior.
Discussion of detrimental effects of cell phone usage:
Everyone knows how useful it is to use a cell phone. However, no one is ready to talk about its detrimental effects. It is time for you to make the reader realize that you have a solid reason to not let anyone use the phone at the workplace. Discuss it reduces the productivity of people and causes them to suffer because of their poor performance.
Reiterate the policy regarding mobile usage:
The employee might be using a cell phone in the office because he must not have understood the policy well.  So, it is better to reiterate the policy and let him know that you want everyone to follow this policy strictly.
Mention consequences of not following the policy stated above:
Since the purpose of this letter is to make the employee follow the policies, you can tell what consequences he might face if he did not abide by the rules of the company. By the end of the letter, you should be able to let him know that it is crucial to follow the workplace rules and regulations if he wants to continue working in the same organization.
Sample warning letter:
To:
Name of the employee:
Subject: Warning letter on using mobile phone in the office
Dear Mr. ABC,
It has been observed that despite communicating the policies of the company regarding the use of cell and issuing verbal and written warnings, you have been seen using a mobile phone at the workplace. XYZ Company has a very strict and straight policy that no employee at the workplace is allowed to use a cell at any cost.
The use of mobile phones acts as a big distraction and results in decreased productivity. Employees who use cell phones constantly during work often fail to meet their goals and this deteriorates their performance to a great extent. XYZ Company is not going to tolerate this kind of behavior.
The purpose of this letter is to let you know that this is a warning letter. The company will have to take strict actions against you if you continue to ignore this warning just like previous warnings.
Regards.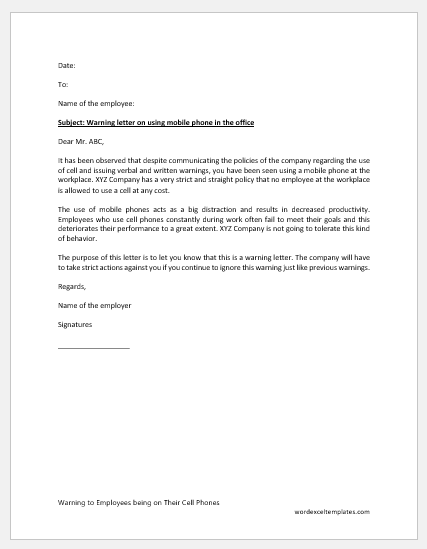 File: Word (.docx) & iPad
Size 22 KB
See also: