Whenever you have land that you want to lease, you will write a lease proposal letter to find a person who can rent the land and pay a reasonable amount. It is sometimes very difficult for landlords to find a person who can take care of their building and also pay the rent on time. So, they keep writing different proposals to those they think need land.
What does a basic lease proposal letter do?
Just like any other proposal letter, this letter also has a specific purpose to fulfill. Majority of landlords like to write this letter because it helps them outline all the rights and responsibilities of both parties as long as they live in a legally binding agreement. 
This letter allows the landlord to express his intentions to lease his land. The landlord can write this letter for residential as well as commercial property.
When to write?
Many landlords don't know the accurate timing of writing this proposal letter. If you have land that you want to lease, you can look for different requests for proposals and then tailor your proposal to all those requests one by one. Make sure that you write the proposal before the existing tenant vacates the property so that you don't have to wait for a long time for your next tenant. Also, make sure that you target the right person when you write this letter.
What is the format of the lease offer letter?
All the professional and formal letters are outlined in a specific format because they are written for a very important purpose and you cannot take any risk. Here is the format to follow:
Start with the intention:
As soon as the letter is started, express your intention. Tell that you are interested in leasing your property and then give your complete address of that property.
Give details of your business:
The reader may never have heard about your business. So, he would like to know about it. Introduce your company by mentioning the name, the number of years you have been working in the area of leasing the property, and key features. Also, give more details depending on how much you want to share.
For instance, some people focus on how big their business is, and for this purpose, they tell how many branches they have running across the country, the number of satisfied customers, and much more. You can also write this letter to focus on the quality and integrity of your business. 
Outline the key benefits of leasing your property:
When you are making an offer, you are selling something. In this situation, you need to convince the reader that the land you intend to lease is beneficial for him. If you are leasing a commercial proposal, mention how it is one of the best commercial properties from the perspective of commercial land benefits.
You must have read the profile of the reader also. So, mention some of their specific needs and then tell how the land you are leasing is going to fulfill those needs.
Outline the rights and responsibilities of the potential tenant:
This is the most important part of the lease offer letter because here are the rights and obligations of the tenant. Here, the deal between two parties can get either better or worse. Outline the rights first because this will give plenty of reasons to the potential tenant to think why he should rent the property you want to lease.
After that, state all his obligations one by one. You should not be afraid while mentioning obligations because the reader always expects them. Also, describe whether the terms and conditions you are stating are negotiable or not. 
Discuss the attachments:
Many proposal letters have picture attachments or a copy of a legal contract attached to the letter. The reader should be informed in the letter what you have attached with the letter. It also shows your sense of responsibility because you don't leave anything to the reader for understanding.
Give your contact details:
Before you close the letter, provide your contact details such as phone number or email address in case the reader wants to contact you to accept your offer.
Letter Sample #1
I am writing on behalf of my company, XYZ to propose a lease for your property located at (mention address). It is the perfect location for us to open our new franchise.
XYZ is a rapidly growing business. We want to be accessible to a larger number of clients by opening a new outlet. Your property is situated at an ideal location as it is the hub of commercial activity in the city. Therefore, my company is interested in entering into a long-term lease agreement with you for this location.
If you are interested in our proposal, we would like to discuss the lease terms with you. Kindly let me know when we can arrange a meeting in order to decide on mutually agreeable terms.
Please contact me at [X] for any questions. I look forward to your response.
#2
I am writing in response to your advertisement regarding your property at (address). I would like to propose a lease for your apartment for a period of 5 years with a security deposit of (amount).
I have been living in (city name) for the past 10 years with my family. I work at XYZ as the Branch Manager and have a steady income. I can provide references from my previous landlords for your satisfaction.
Please let me know if you are interested to meet me in person to negotiate the lease terms. I eagerly await your response.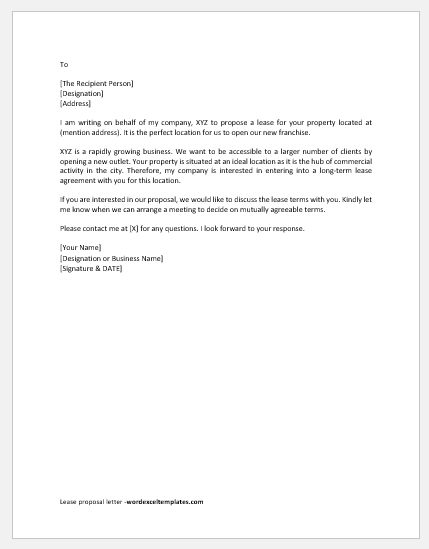 See also: