An employee termination letter is a letter written by an employer and is addressed to an employee. Other common names of this letter are a pink slip, contract termination letter, and letter of separation. This letter is a formal notification of termination or end of an employment period of an employee with a specific organization. Through this letter, an employer fires an employee and puts an end to his contract with the employer's organization. The company policy regarding the notice period is considered before writing this letter.
An employer may terminate an employee for various reasons; some are company-specific while others are employee-specific. The examples of former ones are:
Poor economic conditions and recession.
Organization's financial issues and lay-offs.
Employee redundancies.
Lack of business or slower market.
Client demands and pressures.
The employee-specific reasons could be:
The poor performance of the employee.
Incompetence and incapability.
Lack of team working skills.
Unprofessional or inappropriate behavior.
When an employer deems an employee to be unproductive and not contributing to financial gains, he would take a drastic decision of employee termination. For notifying and informing the employee, he would then write a letter or edit a template already available either in the company records, online sources or programs, such as Microsoft Word.
The template can be easily customized as per the requirements while saving time, cost and effort. For different situations, letters are written with the required variations. However, generally, the following details are included in all the employee termination letters:
Date
Details of the employee.
Details of the employer.
Notification of termination.
Reason for termination.
Date of effect.
Clearance of dues.
Return of company assets/equipment.
End of any fringe benefits, insurances or benefits bestowed by the organization.
Signature.
This letter is a formal document which is kept in the employee file and can be used as a reference if the employee reapplies in the same organization in the future.
Sample Employee Termination Letter
Date
Name
Address
Dear Mr. Ross,
This is to inform you that you have been terminated from the position of 'Sales Manager' in XYZ Limited. This is an irreversible decision and will be in effect from 1st October 2019.
Over the period of last two years, you have been given three warnings for improving your performance and meeting your targets. Your low performance has given leverage to your subordinates as well and we have seen an overall decrease in your department's motivation. You have proven yourself as an incompetent manager and we cannot afford any more financial losses on your part.
We have informed the HR department to clear your dues till 30th September 2019. All your fringe benefits, including health and medical insurance, will end on this date as well. You are requested to handover the company car and laptop till 1st October 2019.
For any questions, you can contact the HR department at [TEXT].
Regards,
Jill Smith.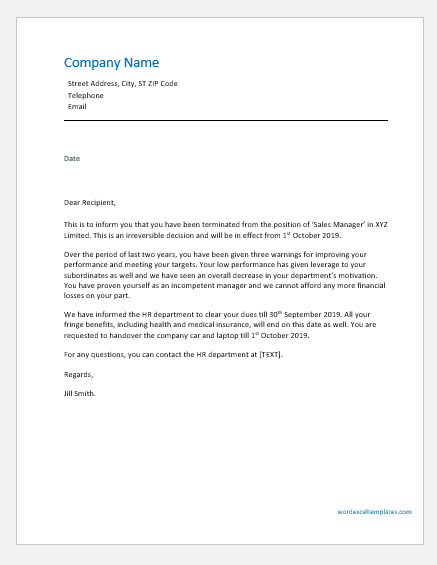 File: Word (.docx) 2007+ and iPad Size 39 Kb |
Download
---
See Also
Termination for non-performance
Termination for violating company rules
Termination for misbehaving with management
Termination for fighting at workplace
Trainee employee termination
Termination due to poor performance
---