Organizations are built on the productivity of employees. This is why productivity is valued by organizations. Employees with low productivity are encouraged to improve their performance. In efforts to motivate employees and improve productivity, all performance rewards are tied to productivity and good performance. Thus, employees have the incentive to improve performance.
Possible reasons of non-performance
However, despite training, counseling, and motivating policies, some employees continue to underperform. Non-performance of employees can be due to many different reasons. These reasons may or may not have anything to do with the company itself. Here are some reasons for non-performance:
Loss of a close one causing sadness and distress
Depression and anxiety
Tough personal relations or personal life
The burden of responsibilities at home
Overstressed or overworked
Injury or illness
Not interested in the job
Unable to get along with co-workers
Unsatisfied with work responsibilities
Unsatisfied with salary and benefits
Unsatisfied with organizational culture
Wants to do something else
Finds work unchallenging/boring/tedious/repetitive
All these reasons may cause an employee to perform poorly. Sometimes non-performance is temporary when an employee is going through a difficult phase. At other times, non-performance may be persistent.
Giving them a chance to improve
Most organizations help employees if they are not performing well. However, ultimately it is up to the employee how well they utilize organizational resources to build themselves and their professional profile.
Managers often talk to employees who are underperforming in an effort to motivate them and if possible accommodate the employee. However, if employees continue to underperform and their periodic performance evaluations are consistently poor, they may be either reprimanded verbally or given a warning letter.
Finally, if there is no improvement…
If the employee shows non-performance month after month, the next step is to suspend the employee for a certain period. Finally, if an employee does not show any improvement at all, and continues to underperform the final step is to terminate the employee. To terminate an employee, the employee's performance records are reviewed by a committee that includes the employee's direct supervisor.
The employment contract gives the right to both the employee and the organization to terminate the contract if the terms of engagement are not fulfilled. Employee performance is one of the conditions in favor of the organization. A non-performing employee can be terminated legally by the organization.
Are you looking for a sample letter? If yes, here are sample termination letters for non-performance.
#1
You are hereby terminated from your job as the (job title) at ABC Company on account of non-performance. Your incompetence has cost the company a great deal of loss. The management is immensely disappointed with you.
Your failure to satisfy Mr. XYZ has been extremely damaging to the company. He has been one of our biggest clients bringing huge profits to us every year.  You disregarded the management's special instructions to ensure he receives flawless services as always. Your negligence and irresponsible attitude towards your job have resulted in catastrophic results for us. This is a mistake that cannot be overlooked or forgiven.
You are advised to carry out your clearance formalities within the coming 2 days. You are to hand over your employee ID card and return the company-provided laptop to the HR department by tomorrow.
You may contact the HR Manager in case of any queries.
#2
This is to inform you that you are officially terminated from your job at XYZ Company with immediate effect. Your failure to meet the deadline for the ABC project has resulted in a huge loss for the company. You are entirely responsible for this damage.
You have often delayed several projects before as well. It shows your incapability at your job. The management has been warning you to improve your performance. However, you have been constantly failing to come up to our standards. We would like a more competent and skillful individual to replace you.
The HR shall contact you for your clearance formalities. Kindly email the Manager for any queries.
Sample letter #3
Date:
To:
Subject: Termination for non-performance at [XYZ]
In accordance with our meeting in the morning, your employment will be terminated by the end of this week.
This was a difficult decision, particularly since you have been part of the organization for the past four years. However, despite repeated counseling and intimation, your performance has deteriorated over the years. After giving you ample time and chances to improve your performance, it is sadly time to let you go.
Your pay shall be calculated till your last working day and paid to you at the end of the month on a regular payday. Please submit your employee ID and company equipment to HR. Let us know if you need any assistance.
We wish you good luck in your future endeavors.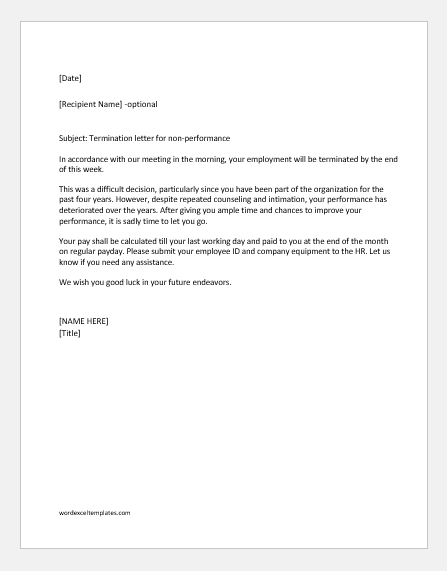 More sample letters…