A job offer letter is a letter written by an employer to a prospective employee. In this letter, the employer makes a formal job offer to a job candidate. This letter is not a contract but is written to inform the applicant about his selection for a job opportunity in an organization. It includes the basic important details that are associated with the job contract and a time period is given to the candidate for him to review the offer and make an informed decision. If an employee sends a consent and accepts the job offer, the next step would be the signing of the contract.
This letter is used before the contract signing for various reasons, such as:
The candidate gets a formal invitation and offers by the employer.
It is kept in the records.
As it has the contractual and job details, it gives a chance to the candidate to ponder over before joining in, so to ensure that he would be able to commit to the terms and conditions.
For writing this letter, if an employer does not want to write from the scratch and wants to save his time and effort, he can use a template from any online source or program, such as Microsoft Word.
These templates can easily be customized as per the requirements of the employer and the job offer, which may vary and hence, different job offer letters would have variations as well. Nevertheless, generally, all the letters have the following details:
Date
Details of the job applicant/candidate.
Details of the employer.
Job offer and designation.
Salary.
Contractual period.
A brief description of the job or responsibilities.
Terms and conditions stated briefly.
Joining or reporting date.
Date to send consent.
Congratulations and welcoming note.
Salutation and signature.
This letter needs to be written in a formal and professional way. Through this letter, the employer should show the applicant that he is excited for the candidate to come on board and that he believes in the candidate's capabilities.
Sample Letter -1
Dear Ms. Emily,
This is in reference to your interview conducted on 14th April 2019 at [X] Limited. We are glad to inform you that you have been selected as an 'Assistant Sales Manager' at our company.
This is a full-time job opportunity from 9:00 a.m. till 6 p.m., five days a week. Your monthly salary will be $[X]. The proposed joining date is 1st June 2019. Initially, it is a two-year contract but is extendable as per your performance. The first six months would be a probation period.
You can take your time and review the offer. You can get back to us till 20th May 2019 and send your approval to the HR department by filling in and signing the attached form. Your timely and prompt response would be appreciated.
We congratulate you again and expect to see you on board. For any questions, you can contact us at [XX].
Regards,
William Smith.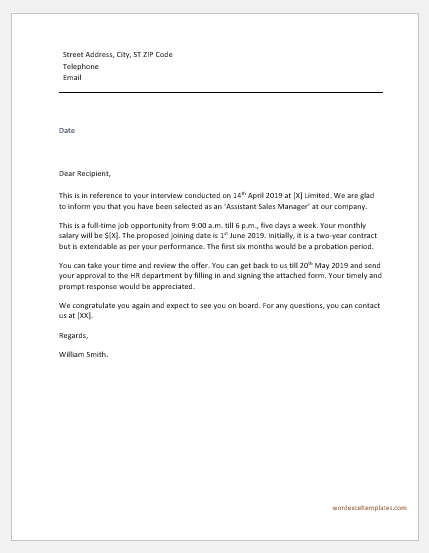 File: Word (.docx) 2007+ and iPad Size 41 Kb |
Download
---
Sample Letter -2
Dear Mr. John,
We are writing this letter to gladly inform you about your selection as 'Team Manager' at XYZ Limited.
Your joining date is the 15th of August, 2019. You can review the offer and get back to us till 1st August 2019. If you accept it, your contract will be signed in the first week of your employment.
This is a project-based opportunity and your contract will end at the completion of the project, the deadline of which is 31st December 2020. However, based on your performance, you may get another opportunity in our organization, as we prefer internal placements. At the same time, we do not guarantee it.
Your total payment for the project would be $[X], which you can either divide equally over the months of the project or divide it into two parts (the one you can receive half-way and one at the end of the project).
This is a complicated project and you will be heading a team of 25 people, along with directly handling the client and its representatives. We believe you can do that smoothly.
Looking forward to seeing you on board!
Regards,
James Wilson.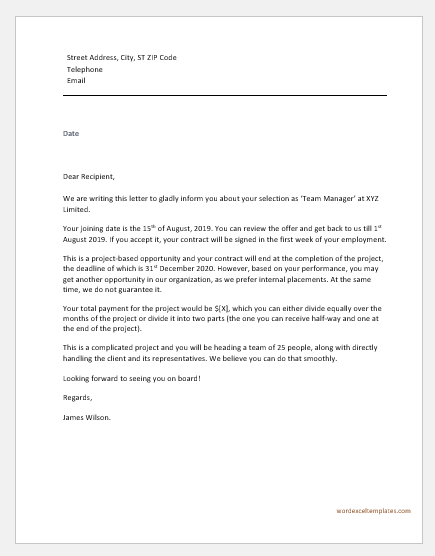 File: Word (.docx) 2007+ and iPad Size 42 Kb |
Download
---
Sample letter -3
Dear Jennifer,
Welcome on board! We are pleased to inform you about your selection as 'Head Mistress' at XYZ School, X branch.
You can inform us about your acceptance of this offer till 25th September 2019 and your joining date is 1st October 2019. Your contract will be signed immediately after your joining. Your monthly salary will be $[X], which will be increased by 8% every year. This is a rolling contract.
A team of around 65 teachers and a headcount of approximately 1000 students will be under your supervision. You will be directly reporting to the principal of the school.
You can send us your consent by writing a reply to this letter and posting it on the mentioned address. We look forward to seeing you.
Regards,
Stacy Geller.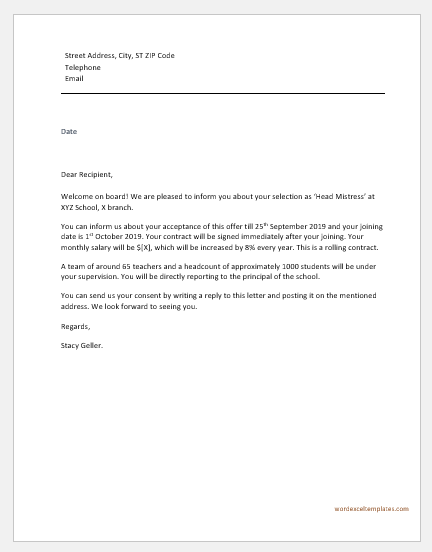 File: Word (.docx) 2007+ and iPad Size 45 Kb |
Download
---