The holiday season is approaching, and everyone is planning how to spend this time. Eid is a time of joy and being thankful. Businesses, companies, as well as entrepreneurs, need to announce holidays to employees according to their contracts. Everyone waits for this time to relax with loved ones. One way to inform employees of the Eid holiday is through email.
What is an Eid holiday announcement email to employees?
An Eid holiday announcement email to employees is an email sent out to all the employees of an organization. This email states how many holidays the staff has for Eid. The exact dates are given clearly.
Importance of announcement email to employees for the Eid holiday:
As stated above, it is necessary to inform employees through formal means when there is a holiday. This announcement can be used later on if any employee claims that the organization granted holidays that were not given.
Tips for creating the announcement email for the Eid holidays
If you need to create an announcement email for the Eid holiday to employees, it should be clear and understandable. The following tips can be considered:
Address the employees: The email needs to be addressed to all employees. If it is only for a special branch in the organization, this should be stated. Add the date, and subject as well. After this, the letter can begin with "Dear employees."
The subject is important: The subject of the email will tell the reader what it is about. This needs to be short and precise.
Simple language: It is not a good idea to use complicated language that the employees will not understand. Make the email simple. Start by hoping that all employees are well and that the holiday season is coming. In the next paragraph tell that the email is to state from when the holidays will begin till when they will end. Give the exact dates here. Also, tell when the organization will be open, and the employees will need to come. End by wishing the employees a good holiday and with the signature of the sender.
The bottom line
It is an easy and fast way to send an email to all employees when wanting to inform them of the Eid holidays. However, the email should be simple and clear to understand.
Sample Email -1
To whom it may Concern,
Eid has always been one of the most awaited festivals among Muslim communities, so we all are none other than them. To rejoice in the happiness and joys of Eid, we all find peace in being with our families and friends and making the fiesta sprinkled with both leisure and ebullience. The company wants you to enjoy every minute of this cheerful time and feels delighted in announcing that the closure period of festivity is ahead of us. I am glad to make a formal statement announcing a four-day holiday schedule from 28th May 20XX to 31st May 20XX. I expect you back at work on Monday, 1st June 20XX.
I wish you a happy and joyous Eid with your loved ones.
Regard,
The Senior Manager
Lunex Bank of Private Limited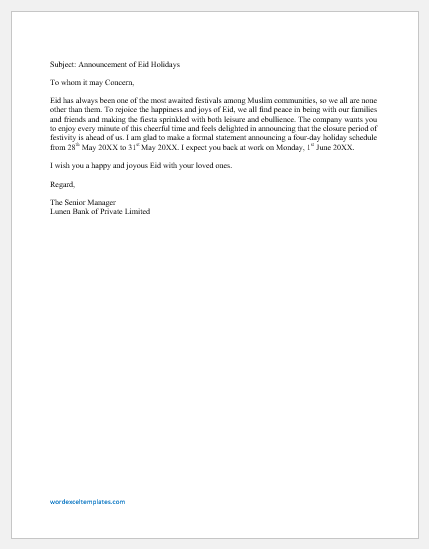 File: Word (.docx) 2007+ and iPad
Size 21 KB
Sample Email -2
Dear,
I hope you all are doing very well at work.
I am very happy to announce everyone's favorite period of the year full of festivity and jubilation. It is a time that we look forward to and hope to spend with our families, relatives, and friends. It is a pleasure to announce the Eid holidays that are scheduled from 23rd May 20XX to 27th May 20XX. There will be no official work or assignment as this time is meant to be a big relief period and assured to make you feel happy, stress-free, and at leisure. To add to the rejoicing zeal of the event, the company has announced $100 in everyone's salary as a premium Eid day gift.
Happy Eid in advance!
Regards
Salman Shahid
The General Manager
MDM Group of companies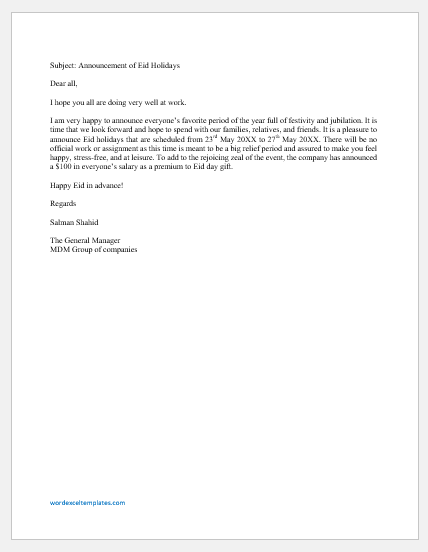 File: Word (.docx) 2007+ and iPad
Size 23 Kb
Sample Email -3
Good Afternoon to all,
I hope that you all are working very well with all your enthusiasm as ever. This is the time to announce an event of big relief- relief from work and monotonous routines. I know, everyone feels happy in celebrating the special moments with their loved ones rejoicing in the connectivity and bond of love and stimulating religious events of Muslims. I am pleased to inform you of an official holiday from 25th May 20XX to 31st May 20XX and I expect you all to report back to work with new zeal and zest of working on Monday, 1st June 20XX at 9:00.
Wish a very happy Eid with exuberant beaming happiness.
Regards
The Senior HR Manager
MDM Software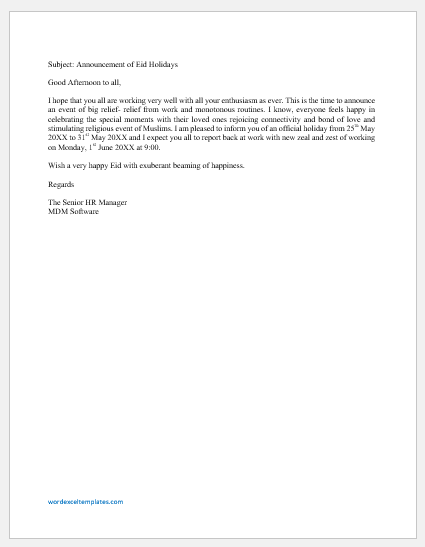 File: Word (.docx) 2007+ and iPad
Size 23 Kb