Invitation Cards
Being human means having feelings and emotions. We like making memories and we want to live our memories over and over again. We take pictures to save our memories and celebrate our big days. Everyone has their own memories on a certain day, but a birthday is a day which is our own personalized day. It is a day when we recall our previous life and welcome the new prospects that life has yet to offer. Every individual has their own ideas about celebrating their big day. Some people would through big parties and invite friends. Others would celebrate it with only the close ones.
Not because the world has modernized and people like celebrating every day of their life, birthdays were celebrated even in the olden times. History has proved us that even the Egyptian pharaoh would celebrate his birthday. Although, in the old times, birthdays were celebrated only by rich people. The pagan civilizations would mark birthdays according to the stars and would believe to get luck and fortune in return.
These days, birthdays are a good opportunity to meet and connect with the relatives and friends. Birthday is a good way to thank your parents for bringing you into this world. Humans are social animals who are looking for ways to connect with people. Our social connections have a lot of positive effects on our lives. Social interactions help us maintain our mental health and build confidence in our personality.
When we think of the word birthday, the first few things occupying our mind would be birthday presents, party and invitation cards. Birthdays are planned days before the big day and people make lists to invite people. With the increasing use of technology, some trends might have faded away but the use of invitation cards will always be in fashion. People might invite you by simply texting or calling you. Such invitations seem to be less concerned and more boring. Sending birthday invitation cards to show your personal effort to invite someone and makes the other person feel worthy of attending the event.
People get creative about their birthdays and even design their own personalized invitation cards. Birthday invitation cards are also important as they provide you with the necessary information like the venue, timings and even the themes of the birthdays. Event management stores have a variety of birthday invitation cards. So, if someone wants to buy, they can even get their own ready-made invitation cards.
Following you can find some special design birthday invitation card templates for MS Word. It is easy to customize as MS Word software is easily available with most of the people.
Preview and Details of Template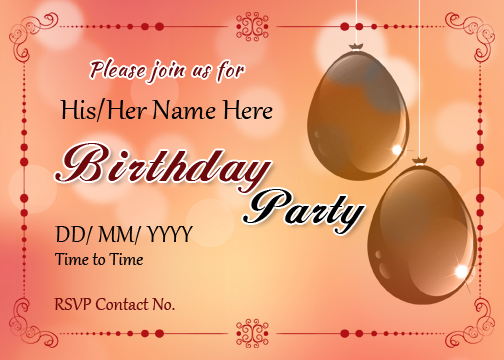 Birthday Party Invitation Card Template
File: Word (.doc) 2003+ and iPad 
Size 18 Kb | Download
License: ENERGY [Personal Use Only]
---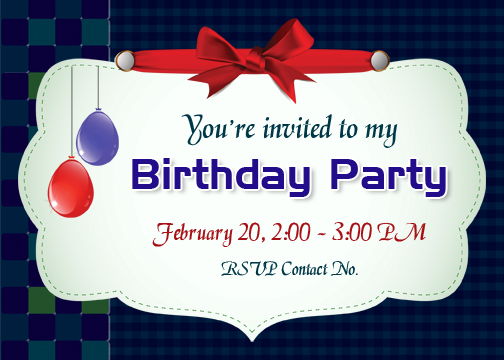 File: Word (.doc) 2003+ and iPad 
Size 18 Kb | Download
License: ENERGY [Personal Use Only]
---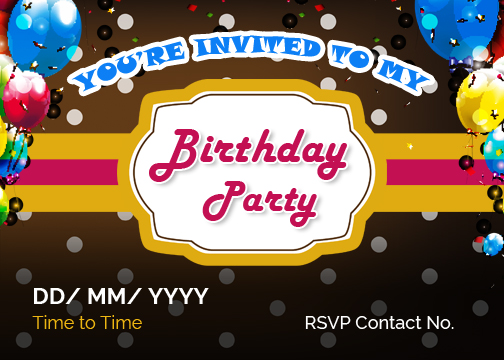 File: Word (.doc) 2003+ and iPad 
Size 18 Kb | Download
License: ENERGY [Personal Use Only]