Warning Letter for Unprofessional Behavior
UN-PROFESSIONAL BEHAVIOR WARNING LETTER
Warning letter for unprofessional or unethical behavior is used for correcting the violations and it is issued to an employee for informing why his/her behavior is unacceptable. The employee is warned prior to a letter is issued, but if they still don't improve then serious steps are taken. This an Unacceptable behavior warning letter is for those individuals who don't have a reasonable behavior with the other employee while working in an office.
Unprofessional behavior includes:
Verbal abuse
Offensive language
Physical or verbal threats
Offensive gestures
Bullying
Carelessness in working
Before providing the individuals with a warning letter, a person is provided the notice to improve his/her conduct; a meeting is arranged in which the employee is provided with a chance to respond to any allegations. A record of the meeting is made and after considering everything, the officials goes to the conclusion that why the individuals behaved in that specific way.
After that a formal written letter is issued to the employee based on his/her record of employment, this letter usually includes a statement on which the behavior or performance has been reviewed by the organization along with the date. The letter contains a detailed description of the incident, the response that was given by the employee and a clear statement that why the behavior of the employee is considered unsatisfactory. It is also clearly stated that if there would be no improvement in the behavior of the employee then he/she would be terminated.
You can get the readymade format of unprofessional behavior warning letter from our website.
PREVIEW & DETAILS OF TEMPLATE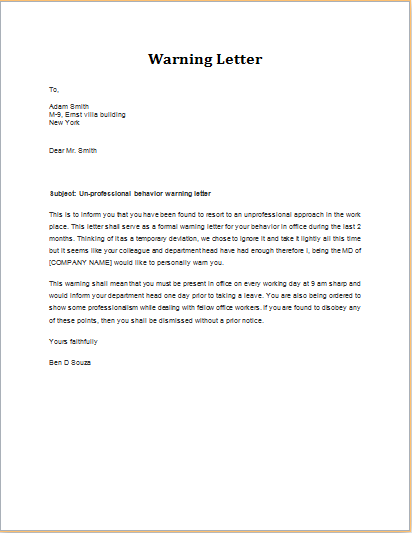 File: Word (.doc) 2007+ and iPad 
Size 23 Kb   | Download
File: OpenOffice (.odt) Writer [Writer]
Size 16 Kb   |  Download
License: ENERGY  (General Use)
(Distribution) by Kate Elizabeth(CEO)