Rent Reduction Request Letter
The amount a person must pay on rent should be the quarter of the person's salary. The affordable amount of rent is budget friendly for the people, and it also enables them to plan their lifestyle according to it. In some cases, the rent amount becomes too much for a person to pay that he finds no money left for other necessities. In such a situation, the tenant can write a letter to his landlord requesting for the reduction in the rent.
There can be many reasons for asking for the reduction in rent such as low income, more tax, etc. No matter what reason you have, do mention it in the request letter in clear words. The rent reduction request letter should not be started with the list of complaints. If you want the landlord to approve this request, it is important to maintain a good relationship with him. There should not be any statement in the letter that can make him angry.
Emphasis on the positive aspects of your tenancy such as paying the rent on time, maintaining the property of the landlord and making small repairs with the passage of time. Here is a sample request letter that can give you an accurate idea of writing the request letter to your landlord.
Rent reduction request letter:
Dear [Recipient's Name],
I am writing this letter to inform you that our lease agreement is going to be ended on 25th February of this year. With the renewal of the lease, I would like to request you to reduce $1000/- in the rent. I am already paying you $7,000 And request you to make a settlement of $6,000 in the renewed lease agreement.
I have been paying the rent on time from last five years. The punctuality is the main aspect of my tenancy. It is, however, has become hard for me to pay that rent because of being in financial crisis. I hope to get your supporting hand in this difficult situation.
Sincerely,
[Name]
Preview and Details of Template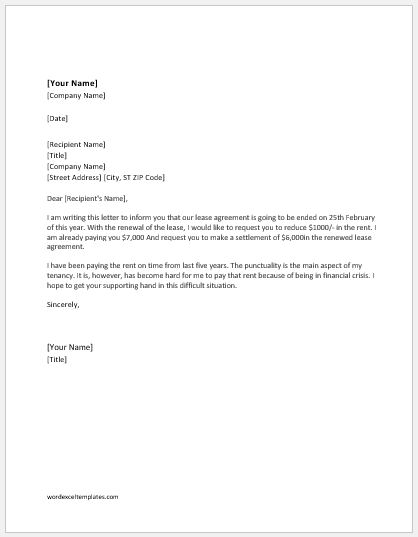 Rent Reduction Request Letter
File: Word (.doc) 2003+ and iPad 
Size 31 Kb | Download
License: ENERGY [Personal Use Only]