Employee Absence Schedule
The success of every organization relies on the endeavors of its employees. Their regularity at work is, therefore, crucial. Companies do realize the need for vacation and leaves. Every employee is granted a certain number of days for sick and casual leaves. In addition, a period for annual vacations is also included in employee benefits.
This is a part of the work contract. However, it is important to track this leave schedule for each worker individually. It prevents employees from manipulating the system. This is because each day of absence is marked on the employee absence schedule. As a result, organizations can keep running smoothly.
Maintaining this absence record leads to several other benefits as well. Most importantly, it helps in keeping a record of paid leaves and extra leaves. This, in turn, is used for calculating the monthly or weekly payment for each employee. Deductions can be made accordingly.
On the other hand, the employees are also aware of this record. Any extra leaves can cost them. Therefore, it helps them in maintaining a well-disciplined work routine. They end up acknowledging their employee benefits instead of taking these opportunities for granted. This may lead to improved employee efficiency for companies.
As far as the employer is concerned, this schedule helps him/her take complete charge. With the absence record in hand, it is easy to evaluate the performance and motivation level of each employee. Those showing up regularly can be awarded to keep them encouraged. On the other hand, slackers can be warned. This information is also useful during a downsizing at companies. The employers can refer to this track record in order to identify employees who have not been disciplined and dutiful.
The points discussed above prove the importance of an employee absence schedule. Therefore, every organization must maintain it. The schedule may be different for employees working at different positions within the same company. This means each individual worker needs its own absence record. Online templates are available to create this schedule in no time. Simply download the template and customize it to fit particular requirements.
Preview and Details of Template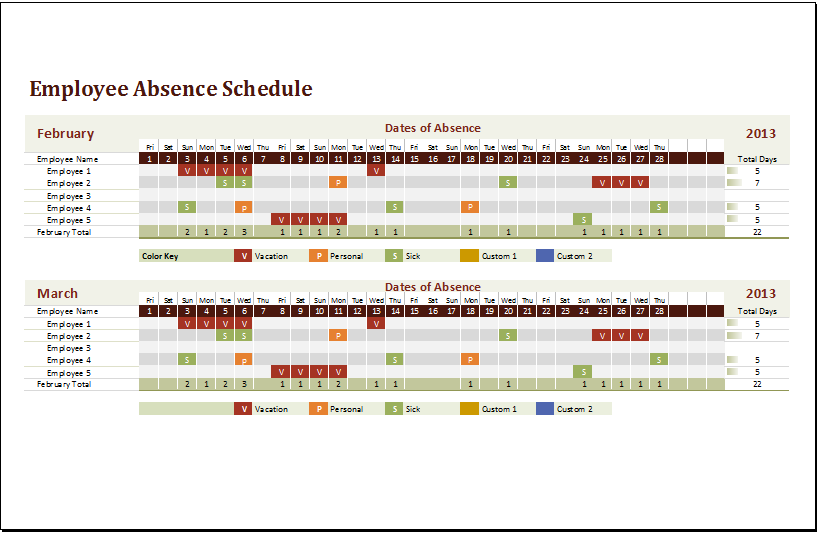 File:Excel (.xls) 2007+ and iPad
Size 35 Kb   |  Download
File: OpenOffice (.ods) Spreadsheet [Calc]
Size 23 Kb   |  Download
Provided by: xltemplates.org