A manager in an organization is most often open to conversation and communication. Feedback is a primary type of communication that is encouraged by all those companies that are constantly improving their services.
The feedback is generally given about the products and performance of the staff members. With this feedback, the manager comes to know where the company needs to improve and what strategies can be implemented to make the staff work even better.
What is a staff feedback letter to the manager?
If you are a supervisor and your job is to oversee the work of different people working under you, you can write a review letter to the manager of the company. This letter is deemed an efficient way to get the performance review of the workers in the company. The manager needs this feedback because he can take many decisions based on the review given by you.
When you give a response in the letter, you let the manager know about the performance of various staff members. You need to ensure that you remain honest when you write this letter.
In which situations the employees' response letter can be written?
When a formal review is to be given:
Giving formal reviews is very common in different organizations. This type of review is very healthy as it points out all the weaknesses and strengths of a person working in a firm. In general, this review is given annually or twice a year so that people can start the new year with several improvements in their work.
When an achievement is to be acknowledged:
Sometimes, the manager wants to recognize those people who have worked well. For this purpose, they encourage supervisors as well as the customers to write feedback letters about the work performance of different employees. As a result, all the workers who have shown good performance throughout the year are acknowledged by giving promotions and increments in their salary.
To reprimand employees:
When a manager sees that some people in the company are not performing up to the mark due to which, the overall performance of the company is deteriorating, he can ask for a review letter as it helps him track all those people who are not taking their work seriously. Then, they reprimand them or issue them a warning based on their past performance.
Writing tips:
Follow the tips given below:
Give reason:
Mention the reason as to what has compelled you to write the letter reporting the performance of people working in the firm.
Give your feedback:
After you have specified the reason, come up with honest and clear feedback that does not show your business or personal issue with any of the staff members.
End the letter professionally:
When you send the letter, ask the manager to contact you for knowing about this feedback in more detail. After that, you can sign off by writing some respectful words like ''sincerely'' or ''truly'' along with your name and signatures.
Read the sample letter given below
Sample letter:
Subject: Staff feedback letter for [X]
Respected Sir,
This letter includes the evaluation of your staff members of the sales department for the period of three months from November to January. I have evaluated the staff members based on their communication skills, promptness in their response to customers' complaints, and interpersonal skills as well.
Mr. Thomson generally performs well, and he is well known for exceeding the expectations of the people he interacts with. He has a strong ability to iron out complex problems in no time. However, he has been often seen neglecting his work duties
Miss Lisa also performs up to mark, but she is often seen perplexed and due to this, her work needs several improvements. She needs to focus on her personality development.
There are lots of personal development programs in which employees of the company should take part. In addition, the employee can tell if there is anything that prevents him from performing well.
To know more, you can contact me.
Regards.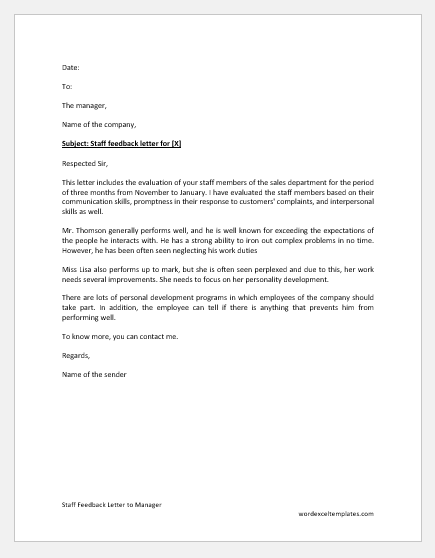 File: Word (.docx) & iPad
Size 22 KB
See also: