A resignation is an official act of quitting or giving up one's position or office. When it comes from the perspective of an employee leaving his/her position then it is regarded as resignation, averse to forced termination. It is a disputed topic whether an employee is terminated or resigned because an employee who is terminated is eligible for deliberated pay while the one who resigns voluntarily is not eligible for all this.
A resignation letter is written by an employee to his employer mentioning the details of resigning from the current position in which s/he is working. It clearly indicates the intentions of the person behind resigning. It should be kept short stating your reason directly.
There are many reasons why an employee decides to resign from the job. When an employee has found a new job and it is better than the current one then he decides to resign from the job in which s/he is working currently.
There can be a reason for an illness that makes it impossible for an employee to continue the job. Sudden illness can be the cause of leaving the position. The third reason for resignation is difficulty working in the environment.
Sometimes, colleagues' and boss' negative attitude makes it worsened to continue the job. It can be due to discrimination or some other reason.
Its fourth reason can be due to relocation. Shifting to other places makes it difficult for a person to travel daily and the ultimate decision that a person makes is resignation.
Other reasons to resign are if an employee has found a much better opportunity and wants to work in a different industry or if she has to resign due to unsolved issues.
This particular letter format has been set for the same purpose to mention the reason for discrimination.
#1
Accept this letter as my official resignation from the company with immediate effect. Unfortunately, I have faced discriminatory treatment from my manager and certain team members on several occasions due to my [XYZ]. I can no longer continue to work with [XYZ] people.
I have complained about my predicament to the HR department twice. However, none of my complaints received a satisfactory response. I have been disappointed by the company's lack of concern about this issue.
I regret any inconvenience caused by my immediate resignation. I hope the company finds my replacement soon.
#2
I am writing this as my formal resignation from my job at ABC Company with a notice period of 1 week. I have been facing discrimination from my supervisor due to my physical disability. He has been excluding me from important projects as he does not believe in my skills despite my qualifications and prior experience.
I have brought up the issue to HR several times. However, my supervisor's behavior has not changed despite my complaints. He treats me with disdain and considers me superior to all other team members. This discrimination is not only heartbreaking but also humiliating. It is for this reason that I have been compelled to resign.
My last working day at the office shall be Friday, 25th March. Kindly carry out all the clearance formalities during the coming week.
Sample Letter #3
8th August 20XX
Halt Stalin
The Manager
XYZ Firm
11-933 Street
Subject: Resignation due to discrimination & unavoidable circumstances at [XYZ]
Dear Mr. Stalin,
With due respect, it is stated that I have been on the post of XYZ in your company. I am writing this letter to resign from the post I am currently working on.
I have complained to you verbally many times about the problems that I am facing here because of [X]. Each time you satisfied me by saying that you will tackle the scenario, but you did not do anything in this regard. While joining here I signed the papers on which it was written that the employees are treated here equally without discrimination, but all went wrong.
I am facing numerous issues due to [X] the day I joined here. In my free time, I am not allowed to sit with my colleagues because they consider me inferior to them.
Moreover, they do not leave a single moment to humiliate me and make me feel inferior. There is not a single day in the company that I was not discriminated against and bullied. Whenever I pass by them, they glance at me with a hateful look and make me work for additional hours despite completing the given task.
The situation is getting worsening day by day and making this difficult for me to continue my job here with you.
I would like to thank you for giving me an opportunity to work under you and it was an overall good experience. Keeping in view the aforesaid circumstances, I would like to request you to accept my request for resignation. I would be much obliged to you for all this. Thanking you in advance.
Sincerely,
Halt Stalin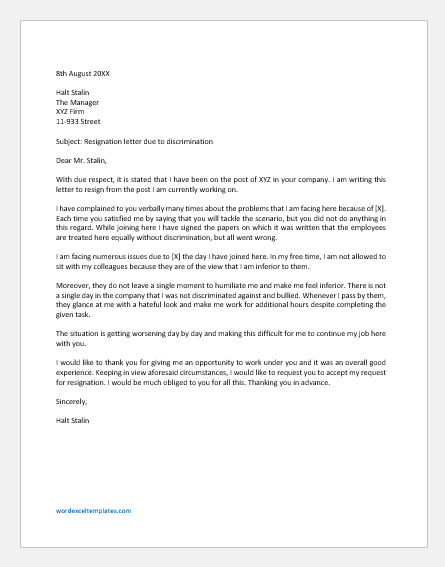 File: Word (.docx) 2007+ and iPad
Size 25 Kb
Download
---
More Templates…