A letter of transfer is utilized to transfer ownership of things such as car, house, and property to someone else with all legal formalities. A transfer letter is a request or notice that is used for transferring property from one organization and party to another organization and party.
Quintessential instances can be redirecting amongst departments at occupational places or moving towards new buildings. It is typically an oblique budge by a person and is not a request for up-gradation. A property or deed basically belongs to an entity or person. It can be either component or an attribute or it can be personal belongings owned legally by a group of people.
The owner of the property has all the legal rights to make it sell or change regarding its transfer. All these things should be made in any transfer letter.
This letter encompasses verification related to transfer requests, as well as the benefits the person who is penning down would bring to the new place. If it is a belligerent letter, then it may also include what kind of actions would be taken by the person if the request is not granted and accepted, like pursuing any legal action or to leave the current position. 
A property transfer letter is written by the person who owns the property to the person who purchases that property. This letter includes formal communication mode amongst the parties, which encompasses all the concerned details of the property that is going to be transferred.
Following is a sample for how to write a deed transfer letter that includes all the details related to it. This letter is basically an official letter.
The date on which the transfer letter has an issue should be mentioned clearly. You also have to mention benefits, joining and advantages in this letter. Discuss the things verbally with the purchaser then consign the official transfer letter of the deed to the purchaser.
This letter should be free from any grammatical mistakes and errors and in the last; you have to mention the reason why the person concerned is being moved.
Sample 
13th August 20XX
Neil Amsterdam
Washington St. 765
Subject: Deed Transfer Letter
Dear Mr. Amsterdam,
I am writing this letter to have a detailed discussion regarding my deed's sale in your favor that is located in Manchester, H-123. On the accomplishment of all the legal formalities and proceedings, I am hereby transferring my property rights to you in all facets.
The property measures around 800 SQ. Meters and is situated in Manchester, New York, is free from declares and lawsuits. It is about 30 years old and I have redecorated and refurbished as per your demand. All the rooms are well furnished with adequate ventilation and the terrace is equipped with the newest solar panels. The carpets of the room are matching with its curtains and furniture in drawing and the dining room is embellished and polished and the mansard has been reorganized.
I certify hereby legally that my deed is going to transfer to you in a well-organized situation. Moreover, you can use it as it ready to be used instantly.
Regards,
James William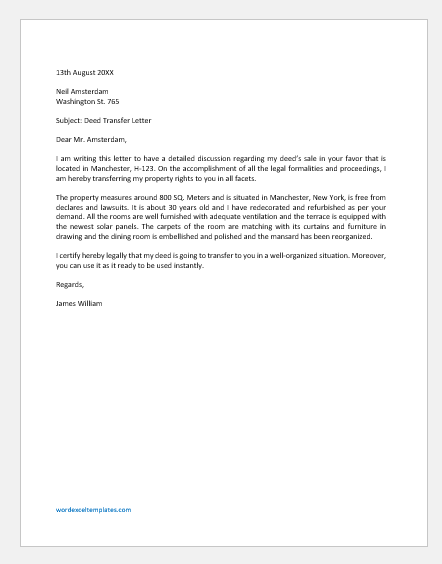 File: Word (.docx) 2007+ and iPad
Size 24 Kb
Download
---