Memos are used to communicate stuff internally concerning procedures and official business in an organization. A memo will be a message that you are sending to many employees, such as your entire department. You may need to write a memo to let people know that you are hiring new staff. This is an effective and professional way to communicate your message to a large group of people.
The memo will bring immediate attention to your aim. In the memo, you will need to be specific and relevant. Only include the very important details. Leave out any unnecessary information. You mustn't employ informal language.
The readers need to take the memo seriously. Therefore, it has to be written professionally. The opening paragraph will give the main point that you are trying to communicate, i.e., trying to hire new staff. You should choose a formal font like Times New Roman or Arial to type the memo in. Its size can be 12 or 14.
Proofread the document before sending it so that there are no spelling and grammar mistakes in it. If these are present, it makes the memo look careless and some people will not even take it seriously. Avoid using any informal language and words that are emotionally charged.
The staff must immediately know what the memo is about when they look at it. This is why you need to communicate its message clearly and quickly without wasting any time.
This is a document that informs people that a company is hiring staff. The memo will give details about what department the hiring is occurring in and when.
If you want people to take the memo seriously, you need to write it formally. The following tips can be kept in mind here:
State the purpose of the memo:
You will start by letting readers know that the memo is a notice for hiring new staff members. The memo will immediately let readers know about this.
Tell qualifications of people you want to hire:
You will state which individuals you are looking for and what their qualifications should be. Briefly tell what department the hiring is occurring in and for what post. You can include points on how this post is a good one to apply to and what benefits people will get if they apply to it. Be brief over here.
Request to staff members:
You will request staff members who are only qualified to approach you for this post. Let people know how they can do this.
Sample memo 1:
MEMORANDUM
To: (State who the memo is to)
From: (Name of sender, post, and department)
Date:
Subject: Hiring new staff
I am writing this memo to inform you that the Department of (give the name of Department) is planning to hire new staff members. This is an exciting opportunity for you to advance your career.
As the company (name of the company) continues to grow, we are looking for staff members who can help with our projects. We have many proposals for projects and are expecting more from top companies.
The qualifications of the individuals should be (state qualifications here).
If you are eligible for the post, please contact us.
Thank you for your cooperation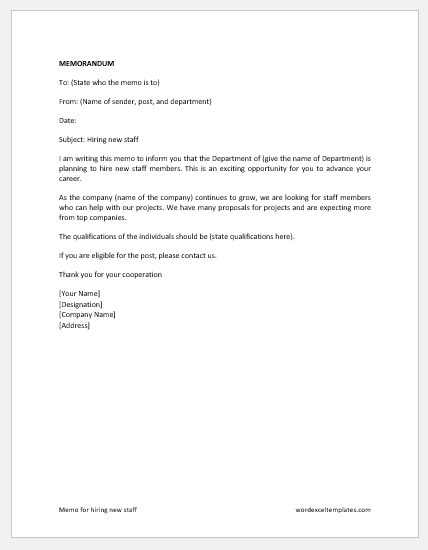 Below is another sample memo was written by the HR manager asking staff members to apply for a certain project
Sample memo 2:
MEMORANDUM
DATE:
TO: All Employees
FROM: (state your name, post, and department)
SUBJECT: Hiring staff for the (name of the project) project
I am writing to let you know that the Department (name of the Department) is hiring new staff members for the (state name of the project) project.
This is an exciting project that will help you advance your career. It will look good on your CV.
The qualifications of the candidate should be (briefly tell the qualifications here).
The hiring will occur from (state from when till when the hiring will happen). Please contact us directly with your CV. We will be taking interviews with qualified candidates.
Thank you for your cooperation.