It is not easy to take your business to closure. However, sometimes you are left with no other choice. No matter whether you are going to close your business temporarily or permanently or no matter what are the reasons involved, you must always consider several factors. Writing a letter to your beloved customers and clients is one of the primary steps that you must take.
What is a letter of temporary business closure due to COVID 19?
This is a formal letter that a company writes to its valued customers and clients to let them know that the business is going to be temporarily closed due to the pandemic.
What is the purpose of this letter?
Whether you are operating a small size business or a large enterprise, there are lots of people associated with your decision to close down the business. You cannot be indifferent to all those people if you want to come back to the market with the same rigor and passion. Writing a letter to them will let them know that the business is going to hibernate for a while and they should be prepared for the closure.
Who should be written the letter to inform about the business hibernation?
When a business owner takes this crucial decision to close the operations, he has to reconsider all those people who are impacted. Most commonly, this letter is written to:
Customers:
They are those people who have to make purchases and they need to know that the business will no longer be available for buying products.
Suppliers:
Suppliers should know that they don't need to deliver products to a company that is moving towards a shutdown. This way, they don't waste their money.
Employees:
Employees are the most important people to be informed of as they are highly impacted by the shutting down. This letter lets them know what is going to happen to them. Even if they are going to get laid off, they can prepare themselves for the future.
How should the closure news be communicated?
There should be an appropriate tone in which this letter should be written to communicate the shutdown news. Follow the things to be kept in mind while writing this letter:
Inform about the termination of services temporarily:
As soon as you start the letter, inform the reader that the business operations are going to be suspended for a while. Make sure that you don't forget to tell me that you are closing temporarily due to a pandemic.
Discuss the reason:
Inform the reader that the reason is the pandemic. Write this part of the letter with a positive tone by letting the reader know that you don't want people to contract the disease and therefore, you are taking a step forward to prevent it from spreading.
Discuss the pandemic:
It is important to let the reader know that it was not an easy decision to take you. However, you do not want to compromise the health of any person. Tell the reader that you will be back once things are in control since you care for your customers and employees as well. This way, you will be able to convey a positive message even when you are sharing sad news.
Read the sample letter given below to help yourself better understand the format and the content.
Sample letter:
Dear employees,
We are so regretful to announce that we are moving our company ABC Enterprises towards temporary closure due to COVID-19. This decision has been taken in an attempt to curtail the spread of Coronavirus.
We understand that this is a testing time for all of us. However, together we can easily move out of this time. Considering the current situation of the pandemic in the country, we have taken this difficult decision. We care for the health and safety of our staff and we don't want anyone to fall prey to this deadly virus.
Currently, we are not going to lay off our employees and we will be operating the business online. You will receive the company's notice for virtual operations. Thank you so much for your cooperation.
Regards,
Name of the manager.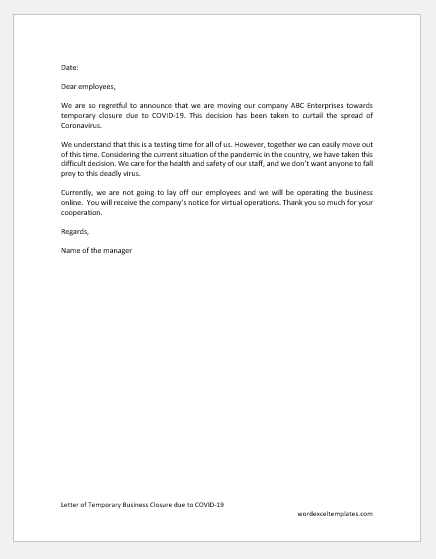 File: Word (.docx)
Size 23 KB
See also: