A letter of appreciation to the church leaders is a letter that can be written by anyone who wants to appreciate the church leaders. The writer can be an individual, an organization, a locality, a community's representative, government, etc. This letter is addressed to the church team, which is managing and providing the services to the church. It is intended to acknowledge and appreciate the work the church leaders are doing to improve the overall community.
Church leaders may include the management team, pastor, church members, etc. The type and amount of work they do on a regular basis are often beyond one's comprehension, because of which their efforts usually go unconsidered. They teach us about religion, guide us toward the right path, answer our questions, hold ceremonies for us, etc. It is essential to recognize and appreciate them, as their services often bring a positive change in our lives.
One of the ways to appreciate the church leaders is to write a letter of appreciation to them, which is a formal and written form of appreciation. The information included in such letters depends on the desire of the addressee, the purpose of appreciation, etc. However, the general details that are included are:
Date.
Details of the addressee.
Details of the writer.
Intention and purpose of the letter.
Improvements and positive effects due to the Church leaders' services.
Donations or voluntary service offers if any.
Attached documents or enclosed donation cheques, if any.
Contact details for any correspondence.
Gratitude.
Salutation and signature.
This simple letter may become a source of motivation for the church leaders, who feel that their services are often overlooked. The type of work they do may change an individual altogether. For instance, a priest, with his preaching, may bring a drug addict back to being a responsible individual.
In addition, any major ceremony or event, e.g., wedding, funeral, Sunday prayer, etc., cannot be completed without a proper and well-managed church service. Therefore, the team behind making such events successful should not be ignored and should be sent letters of appreciation frequently by the people who experience church services.
Sample Letter of Appreciation to Church Leaders
Dear Church leaders,
I am writing this letter to show my gratitude toward the leaders of the ABC church.
I was never a staunch believer, and even on Sundays, I visited the church infrequently. However, when I shifted to this locality and started coming to the ABC church, my life experienced a huge change. You are managing the church so well, and the way you preach Christianity can bring anyone closer to God. I have gotten so many answers to life's questions and learned how to live a life that Jesus commands. Now, I come to the church often, and even feel the change in my life, spiritually.
I would also like to appreciate the way your church manages the crowd, funerals, weddings, etc. In two years' time, since I have started coming here, I have never experienced an incident, which was not well-managed.
You all are doing an amazing job. I wanted to write this letter so that you know your efforts do not go unnoticed and unappreciated.
I am so impressed with your work, that I want to offer a donation of $[X], and my voluntary services to the church. I am enclosing the donation cheque in the envelope. Let me know if you ever need my services at [X].
Thank you once again for guiding me and many others toward the correct path of true and good life.
Regards,
Jim Wilson.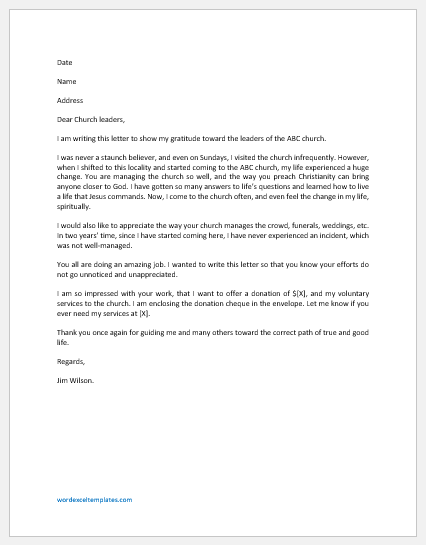 File: Word (.docx)
Size 16 KB
See also: