It is a basic right of every company to expect its employees to meet the expected level of performance when they pay them. However, it is very common for employees also not to meet the expectations level of their employers. Employers often ignore the mistakes of the employee if they are not significant. But it is not suggested to employers to always ignore the mistakes. Due to this, writing a warning letter is considered necessary in several situations.
What is an internal warning letter?
It is a formal letter of reprimand that an employee writes to the employee working in the organization. All those letters of reprimand that are written to people outside the organization do not fall in the category of the internal warning letter.
What is the purpose of the reprimand letter?
The warning is always issued to make the employees aware of their poor performance. This enables them to improve their performance. The warning letter also lets the workers know that what they have done is not tolerable for the company and there are chances of strict actions taken against them. So, employees are likely to not repeat the same mistake.
What is the benefit of writing the inner reprimand letter?
There are plenty of benefits that an organization can reap if it has a policy of issuing letters to admonish those workers who don't take their work seriously. Below are some key benefits:
It builds boundaries:
For maintaining discipline in an organization, everyone in the company needs to know the work boundaries so that they never cross them. Some employees don't take their work seriously because they think that there are no boundaries. When they receive a reprimand letter, they come to know that certain limits should never be exceeded. If there are no limits, the smooth operations of the company will be at higher risk.
It makes a connection:
The warning is not just a statement to show that an act of a person is offensive. Rather, this letter serves as a mode of communication between the manager and the employee.  Additionally, the contractual record is easily maintained with the help of this letter.
Sometimes, the employee shows poor performance because of some issues at the workplace. When the communication between the manager and his subordinates takes place, they discuss all the work-related matters and problems. 
It shows that you have authority:
Sometimes the employees in an organization don't know who the real authoritarian in the company is. As a result, they might not take your words seriously. When you write the warning letter, they come to know that you have the authority to reprimand them and then they start giving you the due respect.
It shows your integrity:
Some people don't know what it feels like, to be honest, and fair in the workplace. So, you can show them that you are fair and that you want to do justice with your job. It will show that you care about integrity, and they will look up to you as someone respectable.
Sample warning letter
Subject: Internal warning for [XYZ]
Respected Mr. ABC,
This letter is being written to you for not showing compliance with the security regulations of the company. You have been told many times that it is essential for every worker to show an ID card at the entrance and follow this procedure strictly. However, you have been seen many times imploring the security guard to let you in without an ID card.
As a matter of fact, every organization devises several rules and regulations because they are meant to be followed. Those who don't abide by these rules show that they don't have any respect for rules as well as for the organization.
You have been given an oral warning before. Now, you are being warned again with a written internal warning so that you don't repeat any such breach of rules. I hope that this letter will help you correct your behavior and take your work seriously.
If you need to discuss anything with me in detail, you can see me in my office.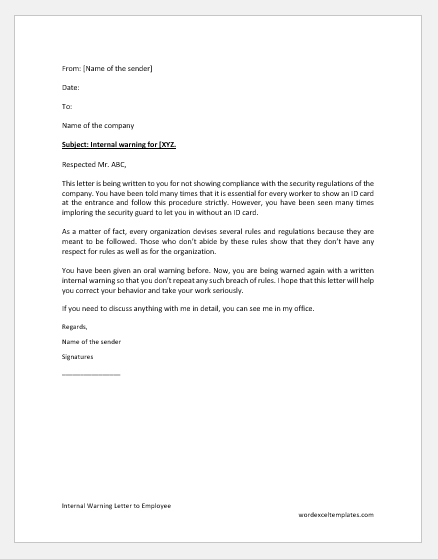 File: Word (.docx) & iPad
Size 23 KB
See also: