It is impossible for any organization to operate without communication. There are different forms of communication but each type ensures that the particular type of information has been transferred from one part of the organization to other.
Communication processes are conducted to allow an organization to place communication between the staff members. There are different communication channels and interfaces for carrying out the communication.
In order to encourage the participation of employees, internal and external communications are very important. It is a universal fact that effective communication in the organization enhances the performance of people working in that organization.
Internal communication is the communication that takes place between the employees and the organization. For example, different workshops are conducted by companies to help the people make involved.
Internal communication may be carried out through email, phone, posters, briefing staff, documents, or meetings. You can also get further information from each other from the intranet which forms the basis of internal communication.
External communication occurs between several branches of an organization. The main purpose of external communication is to convey the issues and problems of an organization to different stack holders.
The internal and external communication report sheet is used in almost any organization to ensure that there is adequate communication between the members. There is a need for this sheet because the management of the company may want to formulate and send clear and consistent messages to the employees.
When the management wants to have a face-to-face meeting with the employees of the organization, there arises a need for solid communication. The internal and external communication report sheet is used to ensure that the communication which is taking place in the organization internally or externally is very effective and serves the people in all possible ways.
There is a need for two-way effective communication processes which can ensure that the performance of the company is enhanced with time and the employees are also provided with sufficient tools to provide their feedback.
In order to check whether the communication of the organization is effective, internal and external communication sheet is needed. There is no specific format for this sheet because each company follows its own pattern according to its requirements.
The report is designed to discuss the importance of internal and external communication. The sheet enables people to put extra effort to conduct every type of communication effectively. The role of the management of the company is also considered when the report is designed.
The report also tells why a company needs different types of communication. There are several tools that are used to prepare the internal and external communication report sheet. The report sheet includes several parameters which are required to be checked before any result can be generated.
The sheet can be designed by a company but if you want to save your time, you can take a ready-made template from the internet.
Preview & Details of Template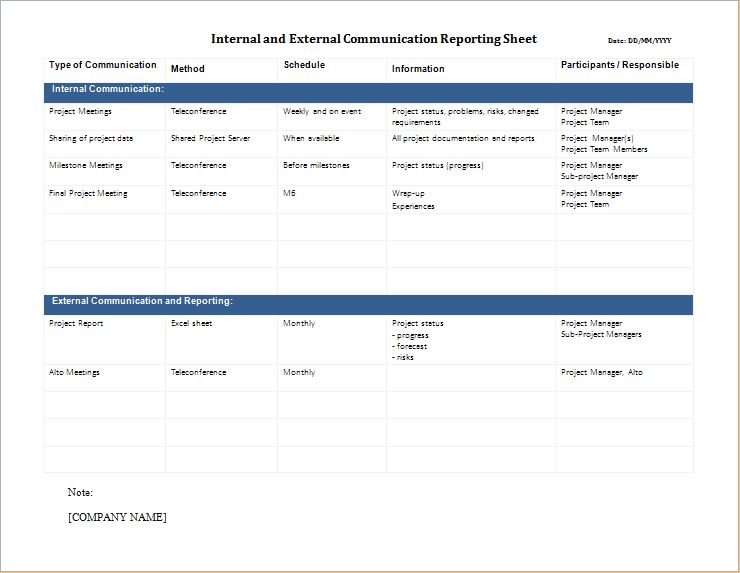 File: Word (.doc) 2007+ and iPad
Size: 32 KB