Sports fans passionately wait for their favorite sports event. Whether it is a football world cup or a baseball champion's trophy, the fans are always geared up to having their calendars filled with the games scheduled. Every sports fan has his favorite players that he keeps sporting throughout the tournament. There are many such situations when the sports fans are not able to keep up with the tournament and miss many matches. For such people, a sports sign-up sheet is the best document.
What is a sports sign-up sheet?
A sports sign-sheet is a document that is used to record the details regarding the sports event. This tool is a very common and important tool for all the lovers of sports who want to keep track of every nuance of the game. This sheet is very useful for sports fans since it enables them to keep all the information about the sports event completely organized. It should be kept in mind that people organizing their own sports events can also use this sheet.
What are the benefits of using a sports sign-up sheet?
There are many benefits of using the sports sign-up sheet. Some of them are
It keeps people organized
Everyone needs to stay organized when it comes to keeping track of the sports event. People who follow a sports event come to know the position of their game in the tournament. In this way, they always stay on track.
Using the sports sign-sheet for your event is useful since it enables everyone to schedule the games in the tournament and also enlist the victories of the teams. People can easily keep track of games won and lost by a particular team.
Many people want to keep track of the entire event but cannot do so because they don't have skills for noting the games and their scores. For his purpose, the sign-up sheet always works best. This sheet is very easy to use since it has all the columns already set in it. The user is only required to input the required details in it and this sheet is ready to be used
It keeps track of the performance of every team
The sign-up sheet helps keep an eye on the performance of every team and player. In this way, it can be seen which team is going to win. The avid lovers of sports are always curious about who is going to win the tournament. When they sue the sign-up sheet and record each intricate detail of the game, they become able to project the result to come
Sports sign-up sheet template
People who don't want to waste their time often use the template for a signup sheet to be used for a sports event. This sheet helps them keep track of the entire tournament without having to put extra effort. You can download the template from different websites and print them when needed.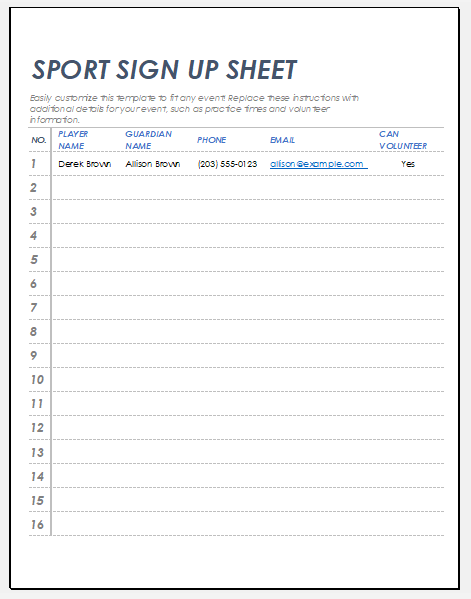 File: Excel (.xlsx) 2007+ and iPad Size 22 Kb |
Download
---