There are a number of industries operating in the world of business. The industries can get associated with some companies while some industries also get an association with goods and services. No matter which type of products a company is dealing with, it always needs vendors that can help the company and the customers in placing orders and also in receiving the order placed by them.
This shows a vendor has a very important role in any business. Before the company chooses any vendor to deal the goods and services with, it requires all the information related to the vendor.
The information is usually about the personal and professional experience of the vendor. The vendor is bound to provide all the information to the company.
For providing the information, the vendors usually fill up the form which is known as the vendor information form.
In order to do business effectively, the vendor should complete and submit the vendor information form. The main purpose of using the vendor information form is:
To comply with the legal regulations
To fulfill the requirements no matter they are internal or external
To make the timely payment to the vendor possible
Businesses use the vendor information form to see that the payment to the vendor is made accurately and to fulfill the internal requirements of the company. Every vendor is required to provide information about him. The vendor information form is used to collect the information about the vendor which is then further used to process several operations of the business.
The main components of the form are:
The name of the vendor
Business details
Contact details including phone numbers and complete address
Record of delivery
Past experience in the industry
The form also includes some terms and conditions which are imposed by the company on the vendor. The vendor will fill out the form and will provide all the necessary information required on the form in case only when he agrees with the terms and conditions.
Usually, vendor information forms are prepared by an industry professional working in the industry. They know what type of information about the vendor is important to obtain before dealing with them. 
Usually, when the vendor is filling the form and provides all the information to the company, he is getting himself registered with the company. You can get a template for the vendor information form if you have a number of vendors to deal with.
There are many websites that provide professional-looking and well-designed vendor information sheets. You can get the sheet from such websites free of cost and can save a lot of time and money. The templates are easy to use and you can easily modify them according to your needs and requirements. You can also save the templates for use in the future.
The vendor information form is a type of vendor registration form which can also be used to trace down a particular vendor from the list of a number of vendors.
Preview and Details of Template
1-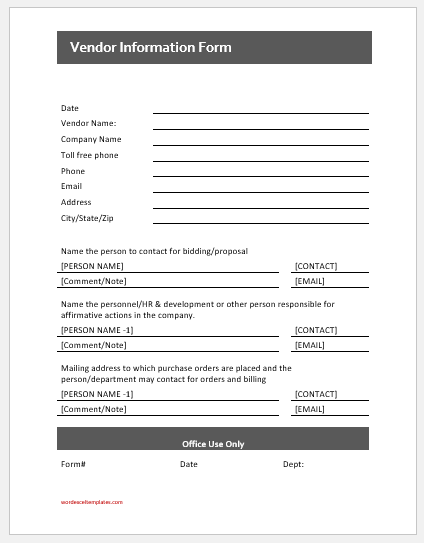 File: Word (.doc) 2007+ and iPad
Size: 33 KB
2-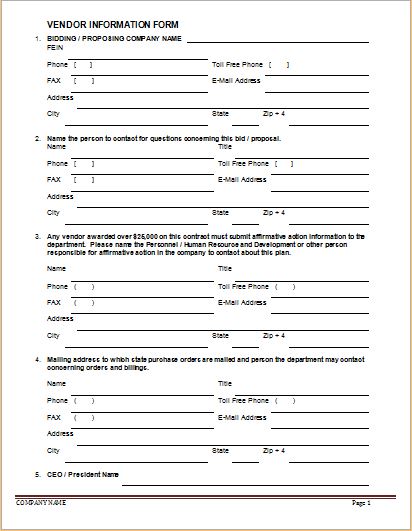 File: Word (.doc) 2007+ and iPad
Size: 32 KB