Inspection of the project is one of the main tasks which are performed in any business. Inspection can be of different types. Sometimes the inspection is performed to check whether the project is working properly.
When any company starts any project, it invests money, time, and workforce in it. After investing so much, it is the right of the company to perform the inspection of the project. The inspection of the project is performed for the improvement of the project.
Some of the methods which are used for the inspection are effective while some are not. The purpose of carrying out the inspection is to point out the drawbacks of the project, usually, the inspection of the project is carried out for the key stakeholders. There are various types of checklists that are used in any business in different types of processes being carried out.
Preparing a checklist for project inspection makes it easy for a person to conduct an inspection. The checklist enables the person to remember all the important details related to the project. The items in the inspection checklist are included according to the nature of the project.
There is no specific format for the project inspection checklist. Each company has a different project inspection checklist to use. The inspection is done to check how much time has the project taken to completion and how much it cost. These are some very important information to inspect so that the company can see the influence of the project on it.
There are many important details that are required to be included in the checklist. If you don't know about the contents of the checklist, you can get a ready-made checklist from the internet. The templates available on the internet are easy to use and save a lot of time.
The use of the checklist for the inspection of the project ensures that no important information has been forgotten. This will enable the person to conduct the inspection efficiently.
The checklist should include the name of the company at the top. The date on which the inspection is being carried out should be mentioned in the checklist which can be useful for record-keeping. Some important components of the project inspection checklist are:
Name of the contractor
PIN of the project
Total money which has been allocated for the completion of the project
The percentage of the completion of the project
Details about the representative
Questions about monitoring of the project and the staffing
Questions related to the documentation of the project
Reviews of all the processes one by one
At the end of the checklist, you can add some of the remarks and overall performance of key persons who have been assigned the project. The checklist should be filled with care because it becomes the record of the project and the future working and processing of the project completely depend on the checklist.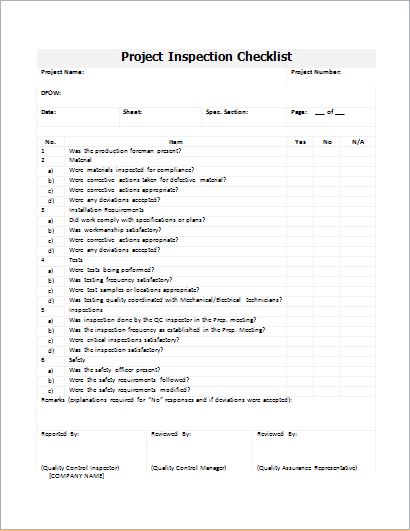 File: Word (.doc) 2007+ and iPad
Size 146 KB
See also: