No matter how tired a person is, either from attending a long business conference or a long enjoyable trip he desires a peaceful and sound sleep and a few luxurious services. Before traveling to a new city, state or a country, the traveler needs to find a good and a fine quality hotel to stay in. As one may come across a lot of options which may seem perfect at first, but after spending some time in its reality may hit hard. Most often it is deemed that a 5-star hotel or a hotel with higher rates may satisfy the customers with the best, but in this world where hotel industry is considered a booming business, satisfaction usually is left aside.
To overcome this problem, people are advised to compare a few hotels before deciding where to spend their time in. By this common practice, a lot of hassle and unwanted events can be avoided. For making a 100% accurate and customized hotel comparison, one must follow a hotel comparison sheet.
Usually, these comparison sheets have a few criteria on which the hotels are compared. The most important one of which is the price or the rate these hotels are offering. Everyone wishes to stay in a luxurious hotel which has every facility to offer, yet they want to pay the most reasonable amount possible. For this purpose, a hotel comparison sheet template draws up few columns and rows and adds in the most common things the user needs to compare the possible hotels.
Next to pricing should be the location compared. The location has more effect on the peace a person feels than it is thought. If a hotel is on a busy road or in the center of a market, it may not have calm or a soothing atmosphere to attract most of the people. On the other hand, a hotel standing tall in a quiet place can add to the attraction.
Lastly, the facilities must also be compared as not all five-star hotels have everything to provide as they offer while charging the customers the highest possible rates.
Preview and Details of Template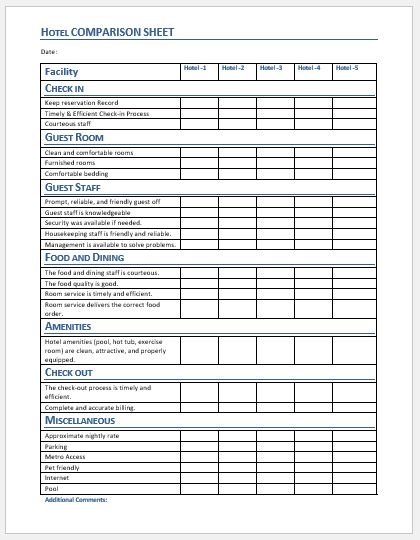 Hotel Comparison Sheet Template
File: Word (.doc) 2003+ and iPad 
Size 44 Kb | Download
License: ENERGY [Personal Use Only]