Rental property condition assessments are due diligence developments related to the real estate ready to be rented out. First of all, a thorough assessment or inspection of the condition of the property in question is done and then a report is made which is known as a rental property condition assessment form or report. It is then delivered to the second party which is the client within a reasonable time of the deal.
This report holds many benefits as in the case of a dispute between both the parties, over petty issues like whether one of the party has inspected the place properly or not, this rental property condition report will work as an evidence of the condition the premises at the time when the deal was done.
In some areas of the world, the owner is required by law to provide the rental property condition assessment to prove that the place is fit to live and is in reasonable condition in respect of maintenance, cleanliness and other areas. This assessment form has another function to fulfill as well. At the end of the term of rent, the tenant is expected to leave the place in exactly the same condition as it is mentioned on the form.
This report should be handed over to the tenant along with the keys to the premises or at least within a very short period of time of moving in the rented place. This rental property condition assessment form may also be filled in during the term of the tenancy so that a proper check on the condition of the premises is done and any issue can be timely pointed out.
You can design an assessment form with the help of a template. This ensures that all the required items are checked and filled in and makes the assessment less time consuming and more efficient. It is advised that at the end of this rental property assessment, both the parties should sign the form or document so that it can be ensured that the assessment was done in their presence and they both agree to the contents of the report. In this way, the report can be used for future references.
Preview and Details of Template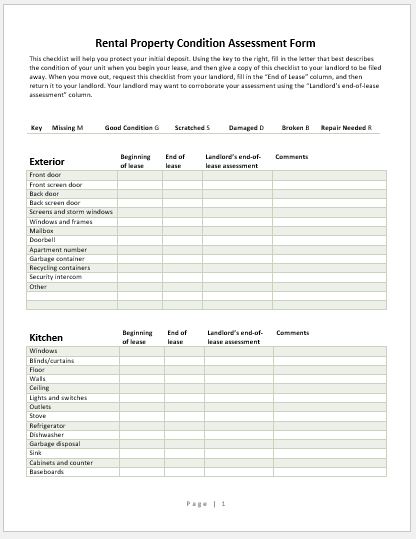 Rental Property Condition Assessment Form
File: Word (.doc) 2003+ and iPad 
Size 222 Kb | Download
License: ENERGY [Personal Use Only]